The al Qaeda-inspired Islamist militant group Boko Haram on Monday threatened to sell into marriage more than 270 schoolgirls it had kidnapped nearly three weeks ago in northern Nigeria.
Nigerian President Goodluck Jonathan pleaded for help from the international community, including the U.S., to locate and free the girls.
Boko Haram leader Abubakar Shekau said in a videotaped message that his group was behind the kidnappings, and U.S. officials believe the video is genuine.
"Girls, you should go and get married," Abubakar Shekau said, adding that they would be married off because "they are our slaves."
Boko Haram means "Western education is a sin" in the local Hausa language.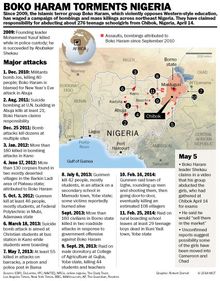 The schoolgirls were abducted from their hostel in Chibok town in northeast Borno state on April 14.
The incident has sparked protests against Mr. Jonathan and exposed his government's weakness in the face of an Islamic insurgency it has been fighting with U.S. help over the past year.
The Obama administration has dispatched a diplomatic team to Nigeria to determine what the U.S. can do to help free the schoolgirls. This team is expected to be in Nigeria next week.
The U.S. already provides Nigeria with counterterrorism assistance, including intelligence-sharing, and is helping build Nigeria's forensics and investigative capacity, and strengthen its criminal justice system.
State Department spokeswoman Marie Harf on Monday declined to specify what more help the U.S. will provide in response to Mr. Jonathan's plea.
"We're going to keep working with the Nigerians privately on that," Ms. Harf said at the daily briefing. "What we're focused on is making sure they can find them and bring them home to their families."
U.S. officials say some of the girls have been taken outside Nigeria by their captors.
Boko Haram fighters travel freely across Nigeria's borders into Cameroon and Niger, much to the alarm of officials in those countries and in Washington, who worry about the spread of the insurgency.
Ms. Harf said the Nigerian government should look for ways to work with its neighbors to find the girls.
Boko Haram is fighting to establish an Islamic state rooted in Shariah law. It was behind the Aug. 26, 2011, bombing that killed at least 21 people at a U.N. building in the Nigerian capital Abuja.