Senate Majority Leader Harry Reid got stuck this week in the political tangle of the Keystone XL pipeline, caught between the party's environmentalist base that fiercely opposes it and vulnerable Senate Democrats from red states who want to vote to approve the long-stalled project.
With an energy bill on the floor, Republicans said the time was ripe to force a vote on their priorities including a proposal to approve the Keystone pipeline. Mr. Reid balked, and the bill is now in limbo amid bickering over who can offer amendments and what they can say.
That once again left red-state Democrats squirming and looking for ways to vote on the project and put distance between themselves and President Obama.
---
SEE ALSO: Pro-Keystone XL pipeline ads put pressure on Senate Democrats in pivotal states
---
The setback was particularly painful for Sen. Mary L. Landrieu of Louisiana, one of the Senate's most endangered Democrats and a lead sponsor of the bill. It called into question Ms. Landrieu's boast that her powerful position as chairwoman of the Senate Committee on Energy and Natural Resources makes her indispensable to Louisiana voters.
Republicans have countered that in all her time on the committee, Ms. Landrieu has failed to advance the Keystone XL project, which would allow oil from western Canada to be piped to refineries and ports on the U.S. Gulf Coast. Because the pipeline crosses an international border, it requires federal approval.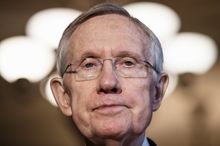 Ms. Landrieu blamed the setback Tuesday on parliamentary conflicts.
---
PHOTOS: Push for Keystone vote puts Senate Democrats in a bind in election year
---
"They can't agree on amendments," she told The Washington Times.
Mr. Reid said he had promised Keystone supporters a stand-alone vote in the future if they let him push through the energy efficiency bill now, without a host of other changes.
He said Republicans refused, which leaves both sides hurtling toward a filibuster vote this week that likely will kill the modest energy efficiency bill.
On the Senate floor, Mr. Reid offered a folksy analogy about the difficulty cutting deals with his Republican colleagues.
"Oft times, working with my Republican Senate colleagues reminds me of chasing one of these little pigs in a greased pig contest," he said. "Regardless of all of our efforts, anytime we get close to making promise, it seems as though we watch it slip out of our hands and the Republicans scamper away."
Senate Minority Leader Mitch McConnell, Kentucky Republican, said the Democratic majority was denying Americans a serious debate about energy policy.
"We can't move forward if the Democrats who run the Senate keep trying to protect the president at the expense of serving their constituents," he said.
Refusing a vote on the amendment to approve the project spared Mr. Obama, who has repeatedly delayed it since he took office, from a potentially embarrassing bipartisan vote that could have approved the pipeline over his objections.
Environmentalists oppose the project because they fear catastrophic spills from the more than 800,000 barrels of oil per day that would course through the cross-country pipeline, as well as emissions of greenhouse gases that they blame for climate change.