The federal probe into EPA fraudster and phony CIA spy John Beale was "delayed and damaged" by the agency's homeland security office, a government watchdog told Congress on Wednesday while revealing new probes across the agency including one of a man who reportedly watched porn at work for up to 6 hours per day.
Patrick Sullivan, assistant inspector general for investigations at the Environmental Protection Agency, told the House Committee on Oversight and Government Reform that the homeland security office has no law enforcement authority, yet its "intelligence adviser" interviewed Beale three times before EPA officials notified its inspector general's office.
The botched investigative work gave Beale a heads up that agency officials were suspicious, giving him a chance to destroy evidence and create an alibi, the investigators said.
Beale ultimately pleaded guilty to pilfering more than $800,000 through a time- and attendance-fraud scam that relied on duping supervisors for more than a decade that he was working undercover for the CIA.
Bob Perciasepe, deputy administrator for the EPA, said the homeland security office should have referred the Beale case to the inspector general immediately rather than waiting months.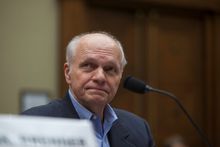 But he denied the agency had a management problem, saying the vast majority of the agency's 16,000 employees are honest and hard working.
Mr. Sullivan said the Beale case was just one example of the EPA's homeland security office blocking the independent inspector general from investigating employee misconduct.
Lawmakers also heard from the EPA inspector general about pervasive misconduct across other parts of the agency, including several startling ongoing investigations.
A senior executive service employee sold jewelry and weight-loss products from her government email account and hired 17 family members for paid internships, according to testimony. The same executive received a Presidential Rank Award worth $35,000.
Another employee, suffering from multiple sclerosis, worked from home for 20 years but produced no work for the past five years, with a supervisor signing off on $600,000 in salary and a performance award during that time, according to another ongoing probe.
Lawmakers pressed EPA's deputy administrator about why another highly paid employee who looked up pornography for up to six hours per day at work hasn't been fired.
The broadening misconduct scandals have only reinforced EPA's "well earned reputation for waste and mismanagement of taxpayer funds," said Rep. Darrell Issa, California Republican and chairman of the oversight committee.
Officials for the EPA inspector general said they were being thwarted from probing misconduct by EPA's homeland security office, which was created in the wake of the Sept. 11, 2001, terrorist attacks as a policy coordination office.
The Washington Times first reported last week that an inspector general's agent — Elisabeth Heller Drake — filed an assault complaint last fall after an official inside the office berated her, while others refused to cooperate during an administrative investigation.
Ms. Drake's probe aimed to find out whether the office's "special investigator" had authority to conduct law enforcement probes.