Joining a new club mere months before the World Cup is a calculated risk. A fresh start can provide just the spark one needs heading into the sport's premier event. But a sluggish acclimation can hamper momentum at the most inconvenient of times.
For U.S. national team striker Eddie Johnson, his first few months with D.C. United haven't exactly gone according to plan. After notching 26 goals in two resurgent campaigns with the Seattle Sounders, Johnson hasn't scored in seven appearances since an offseason trade to United.
With U.S. coach Jurgen Klinsmann set to unveil his 30-man preliminary roster for the World Cup next week, Johnson feels his body of work over the past two years — including four goals in World Cup qualifying and two in the Gold Cup — should trump any recent doubts.
"I think [Klinsmann] has gained confidence in me," Johnson said. "I think I've fitted in well with this group of guys. We'll see when the 30-man roster is named, but I feel in some real important games through the qualifiers I really made a strong case for myself."
Although Johnson was sidelined for United (3-3-2) during last weekend's loss at Portland, the 30-year-old returned to full training Tuesday and is likely to start Saturday at the Philadelphia Union (1-4-5).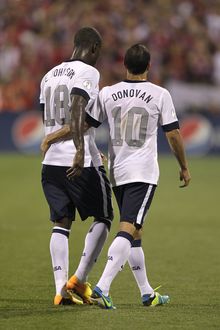 As such, he'll have one final chance to make a case for himself before Klinsmann decides which players will begin reporting Wednesday to the Americans' pre-World Cup camp in Stanford, California.
"I'd be naive to say that in the back of his head he doesn't know there's a World Cup looming and a camp coming that he needs to prove himself in," said United coach Ben Olsen, who represented the U.S. at the 2006 World Cup. "You go about your business. There's only one thing you can do that's in your control, and that's continue to train hard and play well in the games."
Johnson's lack of goals can largely be explained by a stark change in playing style from the Sounders to United.
While United built a tenacious team that looks to win the ball with high pressure, the Sounders used their considerable financial resources to stockpile technically gifted players — such as U.S. captain Clint Dempsey — and play a more possession-oriented philosophy.
"I feel like here we're more of a pressing, hardworking team," Johnson said. "In Seattle — and no disrespect to the guys that are here — I felt like I didn't have to run as much because we had better guys that had more quality on the ball. I feel like the styles are completely different.
"In Seattle … there were more balls into my feet and playing combinations off the other strikers and midfielders coming into the game, whereas here we're more direct, which has been challenging because it's something I haven't been playing as of late."
Exacerbating Johnson's slow goal-scoring start has been the productivity of Aron Johannsson, Chris Wondolowski and Terrence Boyd — strikers competing with Johnson for two or three reserve slots on the Americans' final 23-man squad.
Adding another wrinkle is the late introduction of 18-year-old winger Julian Green, the leading scorer for Bayern Munich's reserve team. After switching his international allegiance from Germany to the United States, the dual citizen made his U.S. national team debut last month.
Even though 11 of Johnson's 21 appearances for the U.S. under Klinsmann have come in a wide midfield role, the versatile veteran still sees himself primarily as a striker on the U.S. depth chart — making Green's emergence less of a concern.
"I don't think he's competing with me. I don't think I'm a midfielder," Johnson said. "But that whole situation is out of my control, it's out of the rest of the guys' control. At the end of the day, the coaches are going to do whatever they want to do."