With an emphasis on defense, Paul George, Roy Hibbert and the rest of the Indiana Pacers are suddenly performing the way they did at the start of the season.
And they don't care how ugly the product might look.
Playing precisely the way they did to earn the No. 1 seed — before a late-season swoon — the Pacers held the Wizards to a franchise-low scoring total Friday night to win 85-63 and take a 2-1 lead in the Eastern Conference semifinal series.
---
---
"Listen, we don't worry about if we're looking good for TV. The other teams can do that, can fill that void with fancy basketball. We don't worry about that," Indiana forward David West said. "We're OK with this. We can win games in the 80s."
Set aside George's 23 points, and neither team looked good on offense. Not at all. It was 17-all after the first quarter, and the Pacers led 34-33 at halftime, only the 13th time teams combined for 67 or fewer points in a playoff game in the shot-clock era, according to STATS.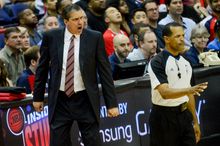 After allowing 102 points in Washington's Game 1 victory, Indiana has won two in a row, including holding the Wizards to 82 in Game 2.
Game 4 in the best-of-seven series is Sunday night in Washington.
"This was probably the ugliest game of the postseason thus far. This is our style of basketball," said George, who helped limit Bradley Beal to 6-for-19 shooting. "That's what we do. Whether you like it or not, are a fan of watching our games or not, defense is what we hang our hats on."
Washington made only 24 field goals, a team postseason worst, on 73 attempts, 32.9 percent. That included 4 of 16 on 3s, and it didn't get much better on free throws, where the Wizards were 11 of 21.
"A clunker," Wizards coach Randy Wittman called it.
The Wizards never had scored fewer than 75 points in a playoff game — the previous low came in a first-round series-ending victory against Chicago 1½ weeks ago — or fewer than 64 in a regular-season game. The 63 points also matched the fourth-lowest total by any club since 1954-55, according to STATS.
"They took us out of our comfort zone offensively," Wizards forward Drew Gooden said. "We were overly confident. … This is a humbling experience for us."
So much for the bandwagon-hopping in Washington. There were boos on occasion, and most of the fans started heading to the exits after George's 3 with 3½ minutes left made it 75-58.
The 7-foot-2 Hibbert was again a factor for Indiana at both ends, coming up with three blocks and forcing Washington's players to alter other shots. He also contributed 14 points and five rebounds.
Before tip-off Friday, Pacers coach Frank Vogel was asked if he sensed which version of Hibbert would show up — the zero-point, zero-rebound disaster of Game 1 or the 28-point, nine-rebound dominator of Game 2.