CPAC 2013
Latest updates and news on the American Conservative Union's 2013 Political Action Conference (CPAC) held at the Gaylord National Resort & Convention Center in National Harbor, MD.
Beau McCoy - Nebraska Senate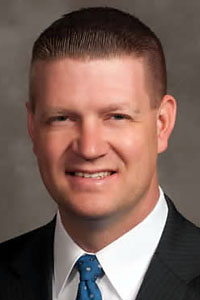 Beau McCoy and his wife Shauna have four young children, Audrey, Ryan, Nora, and Tess. They consider themselves fortunate to be part of the growing number of Nebraskans that live, work, and raise their families in District 39.
Beau has deep roots in agriculture, having been raised on the family cattle ranch that has been in existence for four generations.
Beau is a graduate of Bellevue University where he received his Bachelor of Arts in Leadership. Having spent more than a decade in the home improvement and building contracting industry, he has played a key role in the growth and expansion of several area businesses. As a small business owner and working as a home improvement contractor, Beau McCoy understands the concerns and needs facing the residents of the district.
As State Senator representing District 39, Beau has proposed and helped pass key legislation that protects our families, businesses and Nebraska values. Elected to the Nebraska Legislature in 2008 Beau currently serves as Vice Chairman on the Banking, Commerce and Insurance Committee and on the Natural Resources Committee. He also serves on the Council of State Governments Midwest Executive Committee, Economic Development Committee and Innovations Committee.
CPAC's 10 Conservatives Under 40
In the spirit of this year's Conservative Political Action Conference theme "America's Future: The Next Generation of Conservatives. New Challenges, Timeless Principles," the American Conservative Union would like to introduce you to 10 conservative elected leaders under age of 40 from across the nation. (Read More)