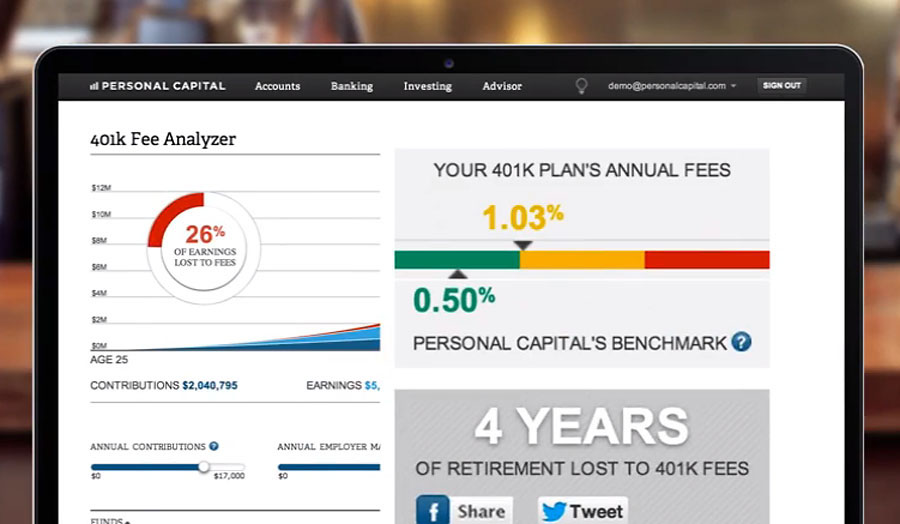 If you are like most Americans, you don't have the time to track and adjust what is going on daily in your various bank and investment accounts. And you don't want to remember all your different online banking passwords. But you do want your wealth and assets to keep growing, with the least amount of work possible.
That's where the new Apple and Android app Personal Capital comes into play. New to the market in the last year, Personal Capital takes the work out of financial tracking and makes it easy to craft a path toward growing your personal wealth. It tracks all of your accounts in one place, giving a 360-degree view of your current finances with the single touch of the button.
Where are you spending all your money and are you staying on budget? Personal Capital can tell you in a second how you are doing, thanks to its easy cash flow and budget tools. Could your portfolio be working harder for you? Personal Capital can compare your investments against the best benchmarks in the market, creating a personalized "You Index."
Is my retirement fund and 401k giving me the best bang for my buck? Personal Capital has a retirement analyzer that projects your growth performance and whether your investment fees are a good bargain. Want to know the value of your biggest asset, your home? The latest version of the app lets you connect to the Zillow real estate database to get instant intelligence on home prices.
Our test of Personal Capital found it was free, easy to use and filled with plenty of bank security features. It has advanced tools and features that most investment firms charge extra for. And it has instant access to financial advisers via Facetime, email or phone so that you can get answers to your questions whenever they arise.
Time Magazine, CNN, CNBC, Forbes and Macworld have all given Personal Capital a thumbs up. We agree. This is an app that will save you time and money and simplify the task of managing your finances and portfolio.
Good money management has always started by having all of your data securely in one place, and then having the analysis and advice tools to help you make smart decisions. Our take is Personal Capital hits the mark if you're a busy somebody who wants to keep track their finances and grow their wealth without too many hassles.