Photos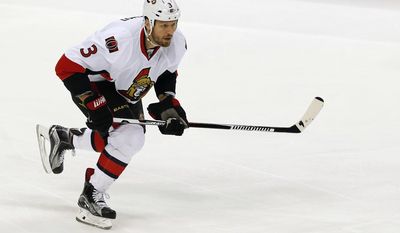 Quotations
Veteran Marc Methot said the team needs to stay tight on defense "because any opportunity where there's a lapse in judgment or a mistake on the ice there's a good chance one of those top two lines will capitalize on you."
Desperate Ottawa tries to avoid elimination by Penguins →
"It's a tight series, and we grabbed a win on the road," defenseman Marc Methot said Tuesday. "I mean, had you asked us if we'd be in this position or we'd enjoy being in this position a couple months back, I'm pretty sure we'd take it. We have an opportunity now to get home and play in front of our great fans, and the building will be rocking. That's something that we're looking forward to."
Confident Senators return home eager for more goals vs Pens →