Related Stories
By ASSOCIATED PRESS

- Associated Press

Shares
Photos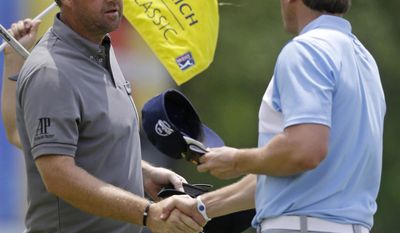 Quotations
"We were both hitting solid shots, giving ourselves good looks," Barnes said. "And we both got off to a great start. We both holed about an 18-20-footer on the first hole. So we saw balls going in the hole, saw good shots. Not so much competing, but kind of feeding off each other."
Barnes, Piercy lead PGA Tour's Barbasol Championship →
"I don't look back on last year, but I like where I'm going lately," said Barnes, who won the U.S. Amateur in 2002 and finished second at the U.S. Open in 2009 but was in danger of losing his spot on tour at the end of last season. "The game has been trending in the right direction. [I've] been working hard. My caddie and I have been grinding, my short game is coming around, and that's kind of where I'm seeing a lot of the results."