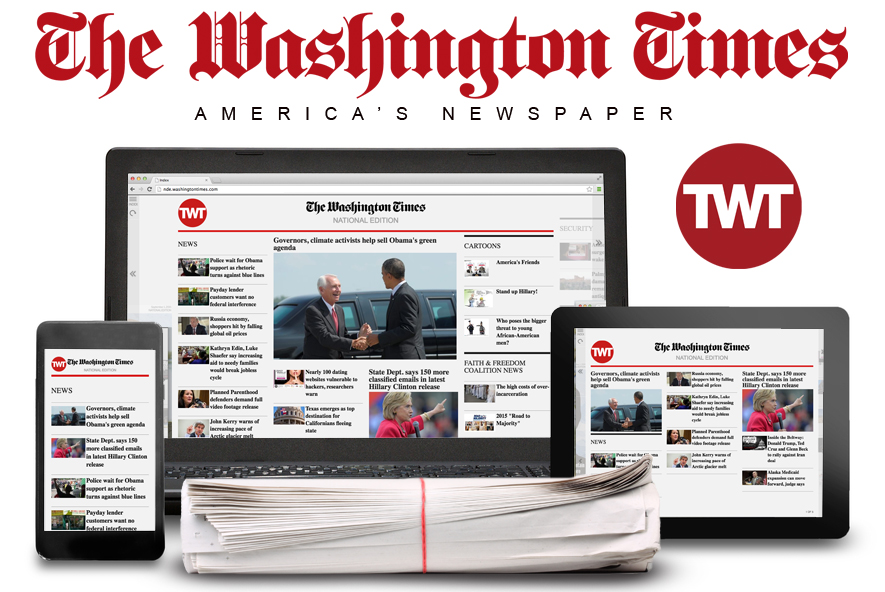 Labor Day Blowout Sale!

---
Get 50% Off 1-Year Subscription to The Washington Times
One year subscription to The Washington Times with delivery* plus all digital access** for only $1.99/week--- a 50% off savings from the regular rate!
---
* Print Subscriptions include Home or Office Delivery
** All Digital Access includes Web + Tablet + Smartphone

Home and Office Delivery Offer for The Washington Times Daily Print valid only in areas served by The Washington Times Delivery Service. Smartphone and tablet app may not be supported on all mobile devices. Prices shown are in U.S. dollars. We reserve the right to modify the type and availability of any digital product at any time. Other restrictions may apply.
---
Customer Service
Support: Click here to view our FAQs for quick support if you have any questions about your current subscription.
Call Center Hours:
Monday – Friday: 6:30 a.m. to 4:30 p.m. EST
Saturday & Sunday: Closed
Holidays: Closed
Contact Us:
Local: 202-636-3333
Toll Free: 800-277-8500
Back Issues: 202-636-4870
circulation@washingtontimes.com