11 things you didn't know about carsharing (#7 might surprise you)
Where do you park though?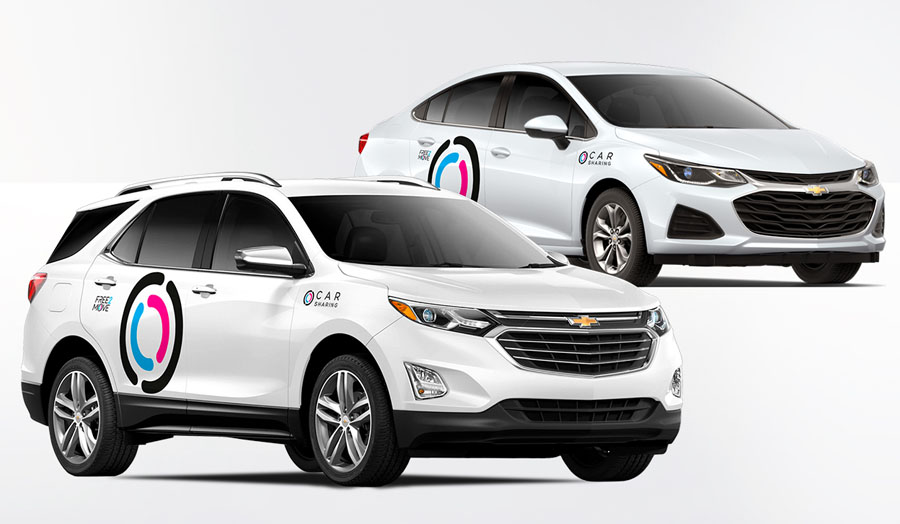 Carsharing can seem a little daunting if you haven't tried it, right? What's allowed and what's not, how far can you go, and what is covered in the price? Here are 11 facts about drive-on-demand vehicles that might surprise you.
1. You don't have to pay for parking
Parking adds up quickly when you're driving a personal vehicle in DC. Shared vehicles are exempt from parking meters, meaning that you can park them in a normally tolled area, and leave them for the next driver to pick up—without having to pay the parking fee.
2. You don't have to pay for gas… or refuel
Filling the tank is a fact of life when you drive. Not with carsharing! The vehicles are regularly refueled and checked on by their provider companies. And if you're taking a longer trip, Free2Move carsharing will reimburse you in credits for the extra fuel-up.
3. Insurance is included in your rental
Car insurance is one of the heftier monthly expenses when you own a vehicle. When you sign up with a carsharing company and rent a shared vehicle, you're automatically covered with the carsharing provider's insurance. If you do have a problem with the vehicle, be sure to contact the carsharing company right away.
4. You can park the car without ending your trip
"Free-floating" carsharing allows you to drive a car from Point A to Point B, without having to return the vehicle back to its original location. But this doesn't mean you HAVE to drive your ride one-way! If you want to stop for food, have a quick meeting, or need a larger vehicle for shopping hauls, you can choose to keep your rental while you park the car. Then simply pick it up again when you're ready to go!
5. Only pay for time you use—minute, hour, or day
No monthly fees, no hidden charges. With carsharing, you're only paying for the time you're using the vehicle. And with Free2Move Carsharing, it always defaults to the cheapest minute, hour, or day rate!
6. You need to return the car in DC
When ending your carsharing trip, make sure to finish it in the home area. You'll find the map in your app.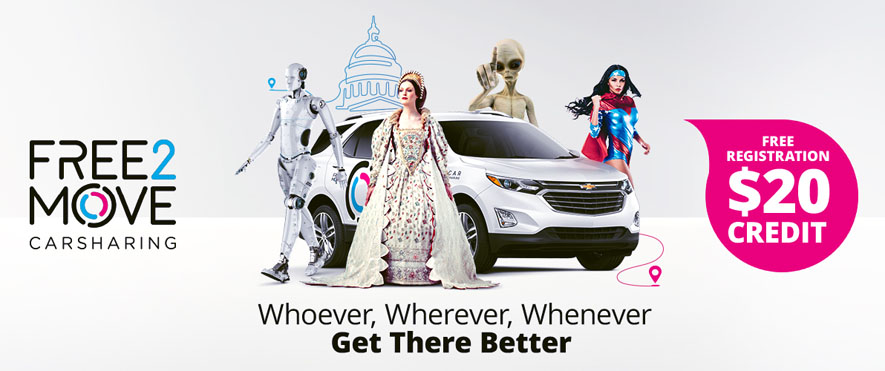 7. BUT you can drive it further away!
For the duration of your ride you CAN leave the home area! Free2Move Carsharing includes 500 miles with each trip. That's all the way from DC to NYC and back again!
8. Carsharing is most often used as a complement to personal ownership
Most carsharing users don't necessarily use it to replace their personal or family vehicles. Users find carsharing works best for them for one-way trips—like going out to a dinner that you'll take a cab home from, or for errands you can't run in your own vehicle—like buying a Christmas tree!
9. Carsharing reduces city congestion
Did you know that the average personal vehicle sits unused over 90% of the time? Not with a shared vehicle! Shared vehicles are in higher circulation than privately-owned ones, therefore keeping traffic flowing and taking up less parking spaces.
10. Free2Move Carsharing has 600 vehicles you can drive in Washington DC
With this many vehicles, you can rely on finding one in your area whenever you need. Free2Move gives you all the benefits of carsharing, with a large fleet of new vehicles to choose from.
11. And they'll give you FREE CREDITS when you signup
Cash in on FREE driving credits when you sign up for Free2Move Carsharing! Download the app today to give carsharing a try with the hottest wheels in DC.