Happy Victory Day!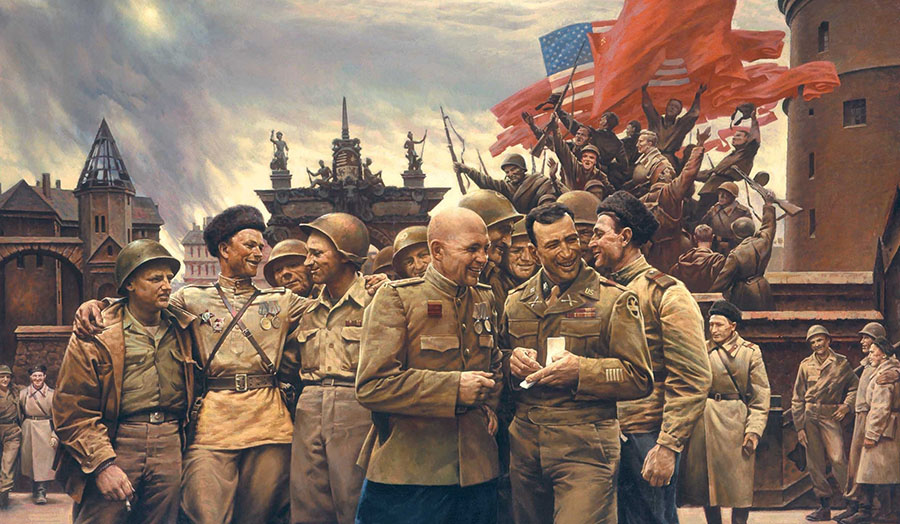 75 years ago, representatives of the United Nations saved the world from a terrible threat - Nazism. The peoples of the USSR, having shown an unprecedented heroic resistance, not only survived in a horrific battle against the enemy during the Great Patriotic War, but gave a peaceful future to succeeding generations at the cost of tens of millions lives.
In the victorious year of 1945, liberator soldiers were admired and sincerely appreciated by the world. It is our common duty to preserve and firmly uphold the historical truth about those events, to honor and pass on through generations the memory of the lessons and victims of World War II, of everyone who fought Nazism and fascism for the sake of independence, salvation from enslavement and the destruction of entire countries and peoples, respect for human dignity, the triumph of the ideals of freedom and equality.
These days we commemorate the fallen, thank and wish long life to the veterans of allied Soviet and American armies as well as to the workers of the rear and all those who gave us this holiday, our peoples share. In the 21st century, they still serve as an example of dedication, brotherhood in arms and cooperation for a greater cause.
Happy Victory Day!
С Днем Победы!
— Anatoly Antonov, Ambassador of the Russian Federation
З Днём Перамогі!
— Dmitry Basik, Charge d'Affaires of the Republic of Belarus
Жеңіс күнімен!
— Erzhan Kazykhanov Ambassador of the Republic of Kazakhstan
Շնորհավո՜ր Հաղթանակի տոնը
— Varuzhan Nersesyan, Ambassador of the Republic of Armenia
Ýeňiş güni gutly bolsun!
— Meret Orazov, Ambassador of Turkmenistan
Жеңиш күнүңүздөр менен!
— Bolot Otunbaev, Ambassador of Kyrgyz Republic
Рӯзи Ғалаба муборак!
— Farhod Salim, Ambassador of the Republic of Tajikistan
G'alaba kunigiz muborak!
— Javlon Vakhabov, Ambassador of the Republic of Uzbekistan