Since 1962, paraquat, which is a very toxic herbicide, has been used for weed and grass control throughout the United States. It can be found under numerous brand names throughout the country, some of the most common being Gramoxone, Blanco, Parazone and Bonedry. The primary manufacturers of paraquat in the country are Syngenta and Chevron. Paraquat can be applied to over 100 different crops, such as soybeans, potatoes, sugarcane and cotton, as it targets weeds and grasses that are resistant to glyphosate, another dangerous herbicide sold under the name of Roundup. In 2020, Monsanto, the manufacturer of Roundup, paid $10 billion to 95,000 farmers who developed non-Hodgkin's lymphoma as a result of using the herbicide. Furthermore, Monsanto set aside $1.25 billion for potential future claims that may be filed by people whose health was affected by exposure to Roundup. At the moment, the company faces at least 30,000 claims filed by people who came to struggle with non-Hodgkin's lymphoma.
Because weeds and grasses have become resistant to Roundup, paraquat use grew dramatically, which greatly endangers the health of the people who employ it on a regular basis. The use of paraquat has skyrocketed over recent years, as the employment of the herbicide doubled from 2011 to 2017. Accordingly, it went from over 3 million kilograms to 7 million kilograms being used throughout the country. The majority of users of paraquat are agricultural workers. However, exposure to this herbicide can result in the development of Parkinson's disease, according to medical studies. In fact, people who work with or are around paraquat have a 250% higher risk of developing this condition than the general population. Because the use of paraquat has become so popular, the number of cases of Parkinson's disease increased by 107%, which is very alarming and should prompt federal agencies to place a ban on this hazardous product.
In 2017, Thomas Hoffman filed a lawsuit against Syngenta and Growmark in St. Clair County, Michigan, stating that he had been exposed to paraquat from a farming community since he was in fifth grade. As a result, he developed Parkinson's disease. Unfortunately, the plaintiff died 23 days later after he filed the lawsuit, at the age of 63. Several months later, more farmers joined the lawsuit, all of whom struggling with Parkinson's disease. As a consequence of the lawsuits filed against it, Syngenta paid $105 million to the injured plaintiffs. The main reason people filed their lawsuits against these paraquat manufacturers was because the companies had been aware of the connection between herbicide use and Parkinson's disease, but failed to warn consumers of this serious health effect.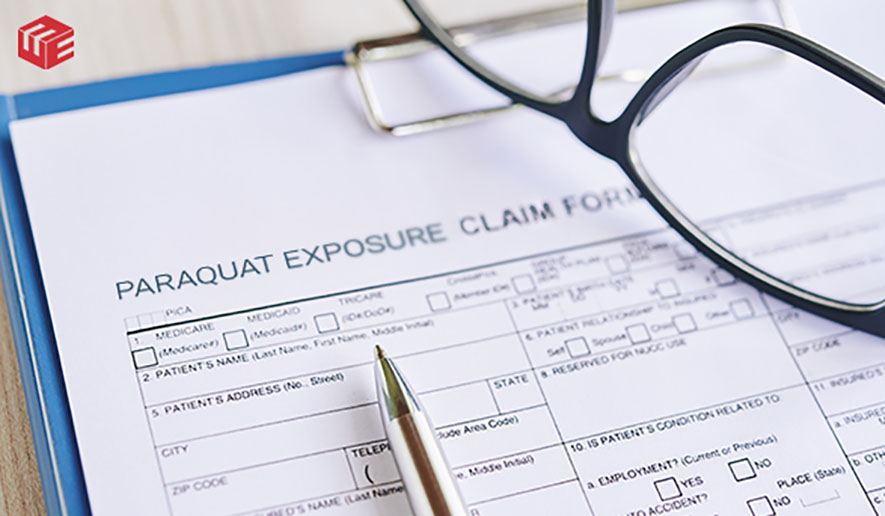 It is worthy of note that paraquat is a restricted use pesticide and, thereby, only licensed applicators who underwent the mandatory training provided by the Environmental Protection Agency can mix, load and use it. Nevertheless, obtaining a license to use paraquat is a very easy process that most farmers and agricultural workers can complete. The process of obtaining a paraquat license can even be completed online. Most of the products that contain this herbicide have a concentration of nearly 44% paraquat, which makes them very dangerous. Exposure to paraquat can occur through multiple routes, such as inhalation, skin contact and ingestion. A single sip of paraquat can be fatal. The immediate effects of paraquat poisoning are pain and swelling of the mouth and the airways and, eventually, people will experience heart failure, lung scarring, kidney failure and liver failure.
Nonetheless, paraquat poisoning and paraquat exposure are different. While the former immediately leads to life-threatening symptoms, the latter can result in Parkinson's disease over time. To avoid poisoning, products that contain paraquat manufactured in the United States usually contain safeguard additives such as a blue dye, a strong odor and a substance that induces vomiting upon accidental ingestion. At the moment, paraquat is banned in 32 countries due to the high toxicity of the herbicide and even China, which is notorious for not prioritizing the wellbeing of its agricultural workers, is striving to ban it. In the United States, paraquat is not likely to be banned soon, which will unavoidably lead to more and more cases of Parkinson's disease. However, the Environmental Protection Agency has recently issues a series of new safety measures for people who use paraquat, such as:
prohibiting aerial application of paraquat for most users with the exception of cotton desiccation
prohibiting pressurized handgun and backpack sprayer application methods on labels
adding mandatory sprat drift management language on labels
limiting the maximum application rate for alfalfa to one pound of active ingredient per acre
requiring enclosed cabs if the area treated in a 24-hour period is larger than 80 acres
requiring enclosed cabs or PF10 respirators if the area treated in a 24-hour period is 80 acres or less
requiring a residential area drift buffer and 7-day for cotton desiccation
requiring a 48-hour restricted entry interval for all crops and uses except cotton desiccation
A medical study published in the American Journal of Epidemiology in 2009 found that any exposure to paraquat within 1,600 feet of a home increases the risk of developing Parkinson's disease by 75%. Furthermore, another study conducted on people exposed to paraquat at a young age revealed that the risk of the participants coming to struggle with Parkinson's disease increased by 200% to 600%. In the summer of 2019, Representative Nydia Velasquez introduced the Protect Against Paraquat Act, whose purpose was to forbid the use of this herbicide in the United States. The Environmental Protection Agency has recently begun reviewing the dangers of paraquat exposure and is to make a decision at the end of 2022.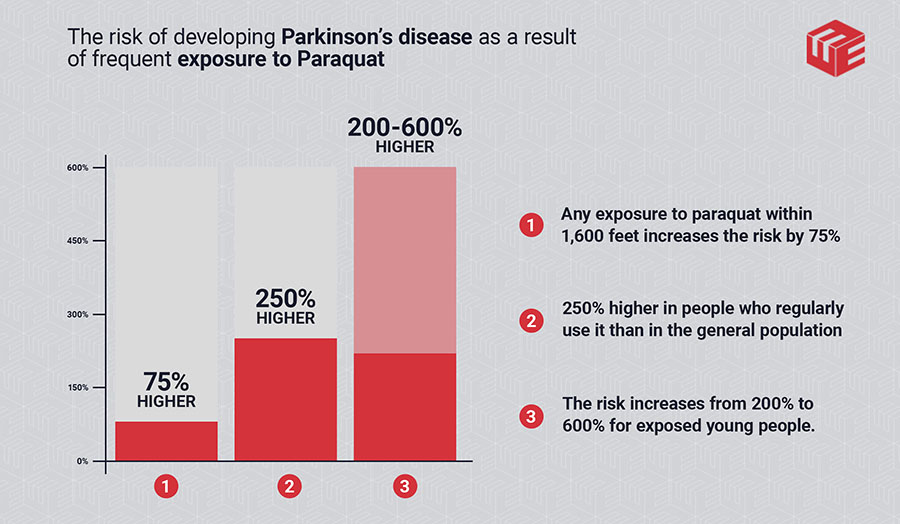 The symptoms of Parkinson's disease include a tremor in hands, arms, legs or jaw, slowness of movement, impaired balance and coordination and stiffness of the limbs and trunk. If you have a family member who worked with or was frequently around paraquat, you should keep a close eye on their health for these signs, which may indicate the onset of Parkinson's disease. When risk factors such as a genetic predisposition to developing the condition and exposure to the fungicide maneb and the insecticide rotenone are present, the chances of a person with a history of paraquat exposure of coming to struggle with Parkinson's disease are even greater. Nevertheless, a sliver of hope is that people who developed this condition as a consequence of paraquat exposure can now recover financial compensation from the liable manufacturers with the assistance of a lawyer who specializes in toxic exposure.
• With over 25 years of experience in pursuing compensation on behalf of victims of toxic exposure, the legal team of Environmental Litigation Group, P.C. can help people who were exposed to paraquat and developed Parkinson's disease file a claim with the responsible manufacturers of this herbicide.