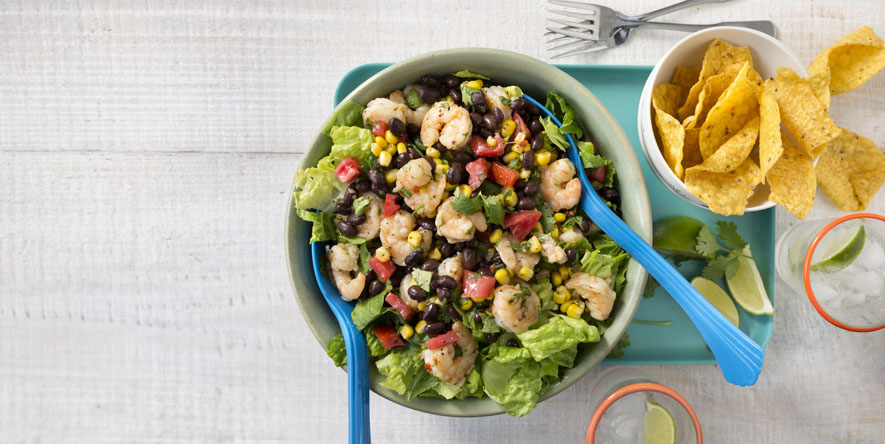 The perfect way to satisfy and delight friends and family this spring season is with a bright, refreshing, tasty seafood dish.
Versatile, flavorful and packed with protein, seafood is one addition that can fit easily onto any menu and effortlessly elevate a holiday spread. Whether it's grilled, sautéed, baked or fried, seafood is amazingly quick and a breeze to prepare, helping busy cooks relax and enjoy more time out of the kitchen.
Santa Fe Shrimp Salad is an ideal, crowd-pleasing dish for Easter Sunday or any spring spread, for that matter. You might even discover that this deliciously simple recipe will find its way onto your list of go-to meals year-round.
Prep Time: 10 minutes
Cook Time: 25 minutes
Servings: 4
INGREDIENTS:
1 package (12 ounces) SeaPak® Shrimp Scampi
½ can black beans
½ can corn
1 medium tomato, diced
2 tablespoons fresh cilantro, chopped
1 head of lettuce, chopped
Corn chips (mixed)
Salt and pepper, to taste
Salsa and ranch dressing, as desired
INSTRUCTIONS:
Prepare shrimp scampi according to package instructions and keep warm.
Lift shrimp from garlic butter sauce and transfer shrimp to large bowl. (Discard sauce, if desired, or save for making garlic toast.)
Add black beans, corn, tomato and cilantro to bowl. Stir to combine with shrimp and season to taste with salt and pepper.
In a separate bowl, arrange shrimp mixture atop lettuce and garnish with corn chips. Serve with salsa and ranch dressing (optional).
If desired, use leftover garlic butter sauce from shrimp preparation to make garlic toast.