Photos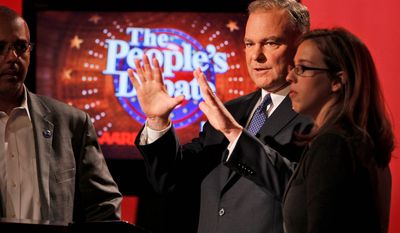 Quotations
Ms. Hoffine said the Kaine campaign collected donations from more than 4,600 supporters.
Kaine reports $2.25 million in second-quarter fundraising →
"Governor Kaine has called for a balanced approach to deficit reduction that makes targeted spending cuts and asks the wealthiest individuals and corporations to pay their fair share by closing loopholes," said campaign spokeswoman Brandi Hoffine. "This approach ensures that the middle class doesn't bear the entire cost of reducing the deficit and protects the economy from dangerous across-the-board spending cuts."
Polls find Kaine Senate bid unhurt by Obama slip in Virginia →