Related Stories
No Stories Found
Photos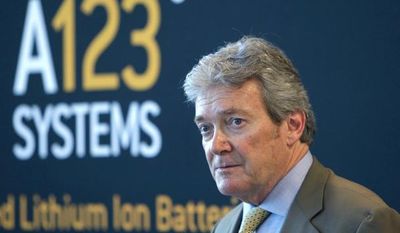 Quotations
But in a statement Tuesday, A123 chief executive David Vieau said: "We determined not to move forward with the previously announced Wanxiang agreement as a result of unanticipated and significant challenges to its completion. Since disclosing the Wanxiang agreement, we have simultaneously been evaluating contingencies, and we are pleased that Johnson Controls recognizes the inherent value of our automotive technology and automotive business assets."
Taxpayer losses in bankruptcy of A123 queried →
"Over the next several years, we expect to create thousands of jobs in Greater Detroit and plan to continue our expansion in the area as we do our part in helping the U.S. emerge as a global leader in the production of advanced lithium ion batteries," company President David Vieau said after the company opened a factory in Livonia, Mich., in the fall of 2010.
Quarter-billion-dollar stimulus grant creates just 400 jobs →