Photos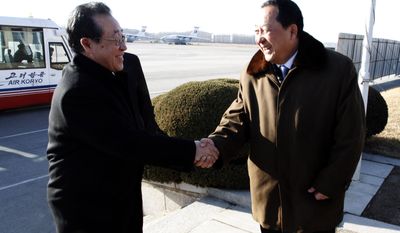 Quotations
Mr. Kim also said Pyongyang would need to consider how far trust had been built before deciding whether to include details of its nuclear-weapons program in a declaration of its nuclear secrets it is required to provide in the next phase of the deal, Japan's Kyodo News agency said.
Pyongyang demands light-water reactors →
"Japan is creating a crisis of infringing upon our national sovereignty," said Mr. Kim, who met with his Japanese counterpart Kenichiro Sasae in a one-on-one session at the latest arms talks. "If Japan takes one more step further, I warned that will be a disaster."