Related Stories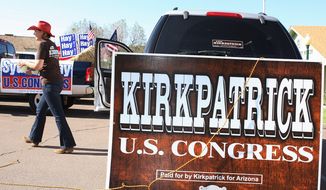 Quotations
"I haven't had any requests," Mr. Gosar said. "People now are finding out where I stand, so we'll see."
Pope Francis' address to Congress poses quandary for lawmakers over lone guest ticket →
"As the president reaches the end of his second term, he has made it clear that his top priorities during his waning days are furthering his far-left political agenda by forcing big government programs on the American people. His new AFFH regulation is one of the most far-reaching attempts yet to punish communities that don't submit to the president's liberal ideology. American citizens and communities should be free to choose where they would like to live and not be subject to federal neighborhood engineering at the behest of an overreaching federal government," Gosar said in a statement.
Obama set to force affordable housing into affluent communities →