Related Stories
No Stories Found
Photos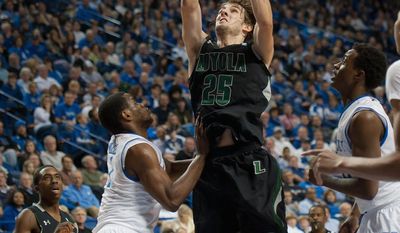 Quotations
"It's been crazy," junior guard Robert Olson said. "I've been trying to be a little subdued, because we've had four or five days off and we got so excited Monday when we won, we've just been trying to calm down and focus on practicing and getting ready for whoever we were going to play. Tonight was crazy. I was nervous at every selection. When we finally got introduced, I didn't know what to think."
Loyola's NCAA tournament trip defines turnaround under Patsos →
"I think he's just playing hard every possession this year," guard Robert Olson said. "It's hard, especially for him since he's an undersized four, but he's so athletic he can just jump over everybody. I think the fact he's rebounding so much has really helped us. We all know he can score and dunk, but he's rebounded well, and he's played defense when we needed him to."