SRINAGAR, India | Indian police opened fire Wednesday on Muslim demonstrators in a town near Kashmir, killing four people and wounding 30 as leaders of India's main political parties debated how to end months of separatist protests in the region.
In another clash, one protester was killed and two were wounded when government forces used live ammunition in Sopore, a town northwest of Indian Kashmir's main city, Srinagar, a police officer said.
Government soldiers fired when the protesters attacked them with stones while they were returning to their barracks, the officer said on the condition of anonymity.
The new clashes came two days after 18 protesters and a police officer were killed in street battles — the worst outbreak of violence in Kashmir in months of anti-India unrest this year.
In response to those protests, which were exacerbated by reports of a Koran desecration in the United States, authorities slapped a round-the-clock curfew across Indian-controlled Kashmir and threatened to shoot violators on sight.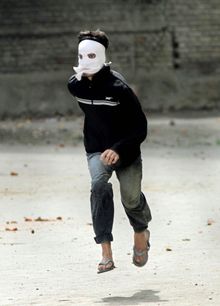 The Koran issue resurfaced Wednesday, when thousands of protesters assembled close to a Christian school in the town of Mendhar, 115 miles southwest of Srinagar, Indian Kashmir's main city, chanting "Down with Koran desecrators" and "We want freedom."
Police fired tear gas and swung batons as the protesters tried to enter the school and used live ammunition when the crowd refused to disperse, said a police officer who spoke on the condition of anonymity, as he was not authorized to talk to reporters.
At least four protesters were killed and 30 others wounded, six of them critically, he said.
Angered by the deaths, hundreds of people arrived from neighboring villages and torched a court complex, a post office, a police headquarters and other government buildings, the officer said.
Mendhar, a predominantly Muslim town in the Jammu region next to Kashmir, was not under curfew when the protest broke out Wednesday.
Meanwhile, protesters defying the curfew in Srinagar were met with tear gas, and separatists burned two government vehicles in the southern town of Shopian, the officer said.
The recent eruption of violence has left the government searching for a new strategy for dealing with the protests, and Prime Minister Manmohan Singh gathered the nation's top political leaders Wednesday to appeal for ideas.
Speaking at the start of the meeting, Mr. Singh accused separatist groups of orchestrating some of the violent protests. He appealed for calm in the region and said the government was willing to talk to any group that did not espouse violence.
"I have said this earlier, and I say it again: The only path for lasting peace and prosperity in Jammu and Kashmir is that of dialogue and discussion," he said.
The meeting ended with an agreement to send a delegation to Kashmir to hear opinions from all sides, according to a statement released afterward.