Wracked in recent years by sectarian violence and economic collapse, Iraq has been enjoying a quiet resurgence this year even as its neighbors in the Middle East are striving to stave off economic meltdowns in the face of political unrest.
Iraq's stock market surged nearly 25 percent in the first two months of the year, and a record $20 million of investment funds flooded into the country from the U.S., Europe and other Persian Gulf states, even as other Arab stock exchanges fell by a collective 15 percent.
Iraq's economic renaissance began with little fanfare in December after the United Nations voted to recognize its newly formed government and lift long-standing sanctions against the country, said Kenneth Kuhn, president of Global Capital Investments, a Chicago investment firm that specializes in Iraqi stocks.
With some of the biggest untapped reserves of oil in the world, Iraq also is benefiting from the surge in oil prices to more than $100 a barrel on worries ignited by the Middle East unrest.
Despite an outbreak of street protests in February by Iraqis demanding better services and jobs, Mr. Kuhn said, the demonstrations were different from those in other countries because they were not aimed at unseating the democratically elected government.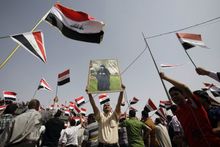 Risks remain in the war-ravaged nation, Mr. Kuhn said, but he thinks Iraq is at the beginning of an economic revival that could make it a beacon of stability and prosperity after years of having the region's most stricken and violence-wracked economy.
"It's a market that's at an historic bottom," he said. "They're not out of the woods yet by any means, but it could be like being in China and Brazil 20 years ago" for businesses and investors willing to go out on a limb and tap into Iraq's potential growth.
Although memories of the years of war and violence linger, Iraq has several reasons for optimism, Mr. Kuhn said.
The U.S. and other Western powers, after spending hundreds of billions of dollars and sacrificing thousands of lives to liberate the country from dictator Saddam Hussein and establish a fledgling democracy, now want Iraq to succeed.
With violence down by 90 percent since 2007, the International Monetary Fund last month found that Iraq had achieved economic stability with declining inflation and projected that its economy would maintain superlative annual growth rates of more than 10 percent in coming years.
Fifty power plants are being constructed to meet Iraq's soaring demand for electricity, and other major projects include a big sports complex in the southern city of Basra and a Disney World-like park in the northern city of Mosul.
Iraq's citizens are war-weary and want to put aside the decades of turmoil and establish a peaceful and prosperous society, Mr. Kuhn said, contending that the cycle of insurgency and violence has essentially run its course.
Perhaps most important, Iraq with its oil wealth has the wherewithal to quickly reconstruct its economy and raise the standard of living.
Iraq has 143 billion barrels of proven conventional oil reserves — the second largest in the world — and its production of oil reached a postwar high of 3 million barrels a day in February.
But the biggest gains lie ahead. Iraq has only begun to work with major oil companies to unlock potentially billions more dollars in conventional oil reserves that Iraq's oil minister says could enable the country to rival top oil producer Saudi Arabia with exports of 12 million barrels a day within a few years.