ARIZONA
Brewer mulls license plate
PHOENIX | Arizona tea party supporters would have a new way of showing their affinity for the movement under a bill sent to Gov. Jan Brewer on Wednesday that creates a special "Don't Tread On Me" license plate.
The plate would feature the rattlesnake emblem and yellow background of the historic Gadsden Flag that is a symbol of the tea party movement. Opponents say the plate inappropriately promotes a specific political movement. Supporters say it is meant to stand up for constitutional principles.
The measure creating the plate and two others won final legislative approval late Tuesday in a 22 to 8 vote by the Senate. It already had passed the House.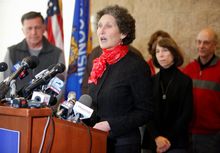 A Brewer spokesman said the governor hasn't yet taken a public position on the bill. She faces a May 2 deadline for acting on the measure sponsored by Sen. Don Shooter, Yuma Republican.
The Senate deleted a provision in the bill last month to have the state pay the $32,000 of startup costs after critics objected. That leaves supporters of the special plate having to raise that amount to pay for its creation.
WHITE HOUSE
Obama to attend shuttle launch
President Obama plans to attend next week's launch of space shuttle Endeavour, a White House official said.
He will be joined by his wife, Michelle, and daughters Malia and Sasha.
Mr. Obama already had planned to be in Florida that day to give a commencement address at Miami Dade College.
The April 29 launch is the next-to-last flight for the shuttle fleet. It will be led by Mark Kelly, the husband of Arizona Rep. Gabrielle Giffords, who was critically wounded during a shooting in Tucson in January. She is awaiting clearance from her doctors to attend.
The White House official asked not to be named to speak freely ahead of a formal announcement about Mr. Obama's plans.
FDA