When she first showed up at Children of the Night, a privately funded residential facility, "Jane" was angry. Arrested more than 20 times as a prostitute, she had been hardened by the street. She threw things at her counselors. Everyone was terrified by having to deal with her.
"She was just afraid. She was used to being treated so rough," said Lois Lee, the Los Angeles group's founder and president. "She didn't know what to do with someone nice."
Jane, not her real name, was just 14 when her life was taken over in Seattle by a 36-year-old man who said he loved her and promised to give her a better life. It was an easy sell: She was the product of a troubled home, where she was sexually molested by her father's roommate. The abuse began when she was 4 years old. She also was molested at the day care center where she was taken every day.
"My mom was a junkie," Jane, now 17, said in an interview. "I lived with my dad. He was up and down with his moods. He had a marijuana addiction. … I can't remember much of my childhood. I block it out."
Jane said the molestation made her shy, and when she finally told someone about it — her aunt — her father turned away from her. "I needed his support, but he started to shut down," she said. "I figured he didn't care anymore [about me] and so I didn't care anymore. I just started staying away from my house."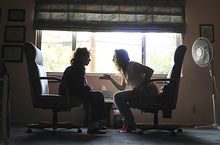 She ended up with a family friend, a woman who forced her to work as a prostitute and sell drugs. That's when she met James Jackson, the man she called Jay, who persuaded her to go with him to Portland, Ore. He promised to show her a better life, but moments after they arrived, Jackson told her she had to "sell her ass," court records show. When she objected, he choked and punched her until she agreed to be a prostitute.
Jane is not the only girl to fall victim to someone she has trusted, but no one really knows how many others there are.
• Five young women tell how they got caught up in sex trafficking and how they got out.
Sex trafficking is so widespread, said Nathan Wilson, founder of the Project Meridian Foundation in Arlington, which helps police identify traffickers and their victims, that "no country, no race, no religion, no class and no child is immune." He said 1.6 million children younger than 18 — native and foreign-born — have been caught up in this country's sex trade.
But, he said, the number of victims is hard to quantify because of the lengths to which traffickers go to keep their crimes hidden.
Analysts say the number of children sexually exploited in the U.S. or at risk of being exploited is between 100,000 and 300,000.
"We know it is a really large number," said Anne Milgram, a former high-ranking federal prosecutor who tried and oversaw sex trafficking cases. "We know there are a lot of children being victimized. We just can't tell you what number."

'Never-ending stream'
Rachel Lloyd said she has seen a "never-ending stream" of abused girls since she founded Girls Educational and Mentoring Services' (GEMS) in New York City in 1997, which helps girls and women ages 12 to 24 victimized by sex traffickers.
"We don't know the number, but we know it is happening. I am working with 300 girls now," she said, adding that most came from troubled homes where there was either sexual or physical abuse. "For every single woman I have met that was exploited, you could tell why they ran away and why they were easy prey for a pimp. The pimp becomes their strongest connection in life."