President Obama has picked CIA Director Leon E. Panetta to replace holdover Defense Secretary Robert M. Gates in the next two months and will move the top Afghanistan War commander, Gen. David H. Petraeus, to take the senior intelligence post in a major shift of national security aides.
The nominations are part of a larger shuffle of the president's war cabinet as he gears up for the 2012 election.
The changes will bring new officials to the top positions in the U.S. military as the United States grapples with three low-level wars, including a replacement for Adm. Mike Mullen, chairman of the Joint Chiefs of Staff.
The decision to replace Mr. Gates - who took over the top Pentagon slot after the 2006 elections when Democrats regained control of Congress - shows Mr. Obama is looking for a closer ally to lead the Pentagon, although Mr. Gates reportedly lobbied for Mr. Panetta, a centrist Democrat, to be his replacement.
Mr. Panetta has worked quietly at the CIA with the difficult task of working with Pakistan's powerful intelligence service in supporting the agency's covert role in the war on terrorism in Southwest Asia, which has included large-scale use of armed drone aircraft attacks on al Qaeda.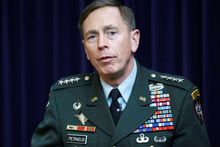 He became a trusted adviser to Mr. Obama and made numerous visits to Pakistan to manage the fraying intelligence relationship with Islamabad.
Mr. Gates made known his desire to step down several months ago and recently made public his opposition to U.S. involvement in the air war over Libya during congressional testimony. The testimony was given as the White House sought to build political support for what it has called a humanitarian intervention.
Mr. Gates also has stated that he opposes deeper budget cuts by the administration in defense spending than those he announced earlier this year.
"The sum total of these picks is that the president has chosen experienced people with unique capabilities to serve our nation at a dangerous time," Sen. Lindsey Graham, South Carolina Republican, said in a key Republican endorsement. "I could not be more pleased with these selections."
The appointment of a second intelligence chief to head the Pentagon - Mr. Gates is a former CIA director - also is a sign that the president is continuing to emphasize intelligence operations and covert action over conventional military activities in the global war on terrorism since the attacks of Sept. 11, 2001.
Mr. Gates tenure at the Pentagon was marked by efforts to shift the strategic focus of the military from waging major conventional wars to counterinsurgency and counterterrorism. In doing so, he clashed with senior military leaders and ended up firing several senior generals and senior defense officials.
Sending a wartime commander, Gen. Petraeus, to head the CIA also highlights the closer links between military and intelligence operations in the war against terrorism.
"Putting a military guy in charge of the agency is as effective as putting an intelligence guy in charge of the Department of Defense," said Rick Nelson, a senior fellow at the Center for Strategic and International Studies.
"They work so closely together, it is important to forge that relationship through this kind of appointment. They are dependent on each other."
Former Sen. Christopher S. Bond, who served as vice chairman of the Senate Select Committee on Intelligence until December, said he was pleased with both selections.