Estonia is investigating whether a gunman who stormed the Defense Ministry last week was inspired by Russia's "massive propaganda attack" against the Baltic nation, a top Estonian official told The Washington Times.
"It's hard to answer what exactly triggers this person," said Mart Laar, Estonia's defense minister. "One possibility we will investigate is whether a factor inspiring him is the massive propaganda attack against Estonia, especially in the last week."
The gunman, a lawyer named Karen Drambjan, had written a manifesto that called on ethnic Russians in Estonia to rise up against the government, the defense minister added. Police killed Drambjan, 57, in the assault on Thursday. No one else was injured.
In his manifesto, Drambjan wrote, "Now is the time for breaking illusions." He claimed that the current government was preparing a war against Estonia's ethnic Russian minority.
"It is clear that the Estonian government has already chosen the path of civil war. It does not matter what form it will take but there will be rivers of blood, full poverty and criminal destabilization," he wrote.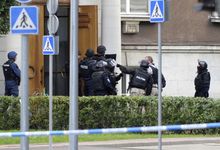 The manifesto also said, "For them we are only sheeps … Whatever masks they have — they have the jaws of wolves and nature of hyenas. It depends [on] every one of us whether we will survive in the blessed Estonian 'democracy' or will be forced out from this neo-fascist country without our pants."
About 345,000 ethnic Russians live in Estonia, comprising about 25 percent of the country's population. Estonia, which was part of the old Soviet Union, has had a rocky relationship with Moscow since gaining its independence in 1991.
In late April 2007, Estonian government websites and banks came under a massive cyber attack, known as a denial of service attack. The Estonian government said the attack originated from the Kremlin and coincided with Estonia's decision to remove the Bronze Soldier of Tallinn, a Sovet era shrine to Red Army veterans.
In 2007, Drambjan in his capacity as a lawyer defended a spokeswoman for a group of pro-Russian Estonians who were protesting plans to remove the Soviet era shrine. Drambjan, himself, was an Estonian of Armenian ancestry.
Mr. Laar in the interview said that in the last month Russia's Foreign Ministry had stepped up official attacks on the current government in power in Tallinn. He said that he was accused of being from a family of Nazi collaborators, an accusation he said was particularly slanderous because his grandfather was killed by the Nazis.
"To make such accusations, to falsify history now in these days, it's really actually a big problem," Mr. Laar said.
Mr. Laar added that these charges from the Russian Foreign Ministry reminded him of the false charges ginned up against him in 1989 by the old Soviet KGB secret police when Mr. Laar was a young activist with the Estonian independence movement.
"I was accused on Interfax of all of these crimes of being from a family of collaborators with the Nazis," he said. "They accused me of this in 1989, they wanted to put me in an infamous prison."
Drambjan, himself, was a member of the Estonian United Left Party, the successor of Estonia's pro-Soviet Communist Party.
In the interview, Mr. Laar said his government has no intention of placing the Estonian United Left Party under increased scrutiny or increasing surveillance of Estonia's ethnic Russians.