Once the cradle of Democratic politics in Maryland, Baltimore is steadily losing residents and its clout to the ever-growing and powerful Washington suburbs, a trend that likely will be reflected when new state legislative maps are released in the coming weeks.
That Baltimore could lose yet another senator in the General Assembly's 47-member chamber is no surprise, considering the city has been ceding residents and influence in Annapolis over the past 60 years.
Baltimore was once the incubator for the liberal, Democratic politics that have ruled Maryland for decades, producing four of the state's past seven governors, including Gov. Martin O'Malley, a former Baltimore mayor.
Yet the city, which went from 10 to six state senators in the 2002 redistricting, has lost roughly 30,000 residents in the 10 years since. Meanwhile, Maryland's 23 other jurisdictions, especially Montgomery and Prince George's counties, have grown, according to the 2010 census figures on which the map will be based.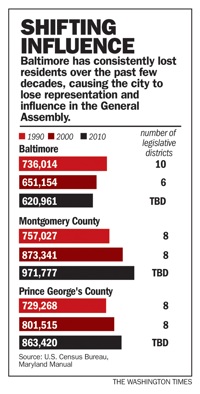 "The numbers indicate they should have five senators, and they have six people in place," said Senate President Thomas V. Mike Miller Jr., Prince George's Democrat. "That's going to be the biggest challenge."
Although Democrats show no signs of losing their grip on the governor's mansion and both General Assembly chambers, the increasing influence of Montgomery and Prince's George's counties — whose eight-district delegations outnumber Baltimore's — has resulted in a clear shift of power and priorities in the state.
Population has grown steadily in the two counties, with many new residents flocking to live in a region already bolstered by its proximity to the District's federal and contractor jobs. Development has surged in the region, and the state has tried to keep up by paying for numerous infrastructure projects — including the Intercounty Connector toll highway and the planned Purple Line light rail.
The shift in money and population has helped give Montgomery County arguably the state's most powerful delegation, boasting the Senate and House majority leaders.
Its legislators have teamed with Prince George's lawmakers to take a vocal lead on many progressive initiatives, including same-sex marriage and the Dream Act, which offers in-state college tuition to many illegal immigrants.
"There's really been a sort of somersault in terms of representation and commensurate power," said Sen. Brian E. Frosh, Montgomery Democrat who has served in the assembly since 1987. "Baltimore was the economic engine of the state 20 years ago, but Montgomery County is now."
Mr. O'Malley could present a new legislative map as early as this week, and the General Assembly will consider it during the session that begins Jan. 11. The General Assembly approved a new congressional map during its special session in October.
The governor and legislators likely will have two choices for addressing Baltimore's population decline in the new map — either cutting Baltimore's delegation from six to five districts or allowing the city to keep all six districts while extending at least one of them into surrounding Baltimore or Anne Arundel counties.
The state's current six districts are confined entirely within city lines.
Many state leaders, including Mr. O'Malley, want to keep all six districts. But constituents and legislators, including Sen. Lisa A. Gladden, Baltimore Democrat, are concerned about a reduction in responsiveness and quality of representation if city lawmakers also have county constituents.
Sen. Verna L. Jones-Rodwell, Baltimore Democrat and chairman of the city's Senate delegation, said the delegation has not agreed on an official stance, but she thinks the city would benefit from sharing representation with counties.
She said the map used during the 1990s split multiple districts between the city and Baltimore County and allowed legislators from the jurisdictions to form better working relationships and fight for common goals.
"It was a win-win for the Baltimore metropolitan region," she said. "There's a lot of population that has left the city and gone out into Baltimore County. We have a lot of similar interests and having more people to work on them is for the better."
Although keeping six Baltimore districts has firm support, doing so could prove difficult.
Maryland's legislative redistricting is subject to much tighter geographic restrictions than congressional redistricting, with laws discouraging districts that lack compactness or unnecessarily cross county lines or bodies of water.
The restrictions were on full display in 2002, when the Maryland Court of Appeals threw out an assembly-approved map that would have allowed Baltimore to keep seven of its then-10 districts by stretching several of them outside city lines.
The court instead drew the current map, which has all six Baltimore districts confined within the city.
"We have to be mindful of the court-made law, but I think there is a rationale for crossing some of these borders," Mr. O'Malley said. "It might not be possible, but if it is possible, I think it would be a good thing for the whole Baltimore metropolitan area."
Despite population and representation losses, Baltimore still receives more state funds per capita than any other jurisdiction in the state. It is slated this year to receive more funds for capital projects than Montgomery and Prince George's counties combined, despite having fewer than half as many residents.
While the city continues to receive money, its needs have taken a back seat more often in recent years on important issues within the Democrat-controlled assembly, such as immigration, gay rights and the environment.
The fight for reforms in those areas has originated more often elsewhere in the state, leading some observers to question whether Baltimore has fallen behind as the state's other Democratic regions move on to new issues.
"If you have set constituents and only deal with attrition … you're going to be beholden to a list of agenda items and demands that may go back 10, 20, 30 years," said Todd Eberly, the coordinator of public-policy studies at St. Mary's College of Maryland. New residents "keep a delegation sort of alive and vibrant, because they need to stay in charge."
Most Democratic lawmakers dismiss the notion that Baltimore has fallen behind, insisting that the city simply has its own set of unique priorities, just like any other part of the state.
They also have expressed optimism that the city could soon rebound from its losses, pointing out that middle-class and upscale development has increased in recent years and that Baltimore's 4.6 percent drop in population in the past decade was its smallest decline since the 1960s.
"There are a lot of new families moving into the city and schools have drastically improved," said Sen. William C. Ferguson IV, Baltimore Democrat. "In the next 10 years, I really forecast a strong resurgence. Having six senators that are really, truly dedicated and see the city's promise is an important goal."