Senate Republicans on Tuesday filibustered one of President Obama's appellate court nominees, ending a six-year truce and reigniting one of the bitterest recurring battles on Capitol Hill.
The 54-45 vote, almost entirely along partisan lines, blocked former New York Solicitor-General Caitlin Joan Halligan from getting a seat on the U.S. Circuit Court of Appeals for the District of Columbia and put the final nail in the coffin of the 2005 agreement by the so-called "Gang of 14" that headed off a partisan war over Republican plans to use the "nuclear option" to bar such filibusters altogether.
Tuesday's vote returns the state of affairs to 2003, when Democrats first legitimized judicial filibusters by blocking President Bush's nomination of Miguel Estrada to the same appeals court.
"We shouldn't be putting activists on the bench," said Senate Minority Leader Mitch McConnell, Kentucky Republican. "We should be putting people on the bench who are committed to an evenhanded interpretation of the law, so everyone who walks into a courtroom knows he or she will have a fair shake. In my view, Ms. Halligan is not such a nominee."
Ms. Halligan is the second of Mr. Obama's judicial nominees to be filibustered but the first to fall purely to Republican opposition and the first to be blocked chiefly on the grounds of ideology without any issues of judicial temperament being raised.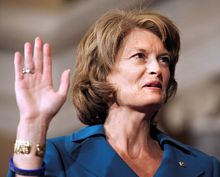 Mr. McConnell said that on cases involving gun rights and terrorism, she chose to file legal briefs that ignored previously settled law and to pursue what, in the gun rights case, a New York court called a "legally inappropriate" theory.
Democrats said Ms. Halligan was acting on behalf of clients in those instances, and they noted that she had promised at her confirmation hearing to follow settled law.
Mr. Obama, who joined filibusters against many of Mr. Bush's judges during his time in the Senate, said he was "deeply disappointed" in Tuesday's vote.
"Today's vote dramatically lowers the bar used to justify a filibuster, which had required 'extraordinary circumstances.' The only extraordinary things about Ms. Halligan are her qualifications and her intellect," Mr. Obama said in a statement.
In Ms. Halligan's case, Democrats said there are no questions about her ethics or judicial temperament, and her blockade is based entirely on politics.
"A vote against this nominee is a vote that declares the Gang of 14 agreement null and void," said Sen. Charles E. Schumer of New York, who helped lead many of the Democrats' filibusters during the Bush administration.
Senate Majority Whip Richard J. Durbin, Illinois Democrat, said Republicans are retaliating against Democrats for filibusters of Mr. Bush's nominees to the same court. He called it "a dangerous path."
Democrats began walking down that path in 2003 when they filibustered Mr. Estrada, and they followed that with filibusters of five other judges that year and added another four filibusters in 2004.
In 2005, Republican leaders led a movement to change Senate rules to declare filibusters of judges invalid - a move dubbed the "nuclear option" and averted only when 14 lawmakers from both sides of the aisle got together and pledged to head off filibusters except in "extraordinary circumstances."
Those 14 senators were enough to swing the balance of power at the time, though not all senators bought into the deal.