Skyrocketing global food prices have pulled more than 40 million people into "extreme poverty" and have almost reached the levels of June 2008, when the world was rocked by food riots.
"The Bank's Food Price Index shows food prices are now 29 percent higher than they were a year ago and only three percent below the peak of the last food crisis in June 2008," World Bank Group President Robert Zoellick stated Tuesday. "Clearly, this is serious cause for concern."
According to the newest Food Price Watch, the foods with the sharpest price spikes since June of last year include such staples as wheat, maize (corn), sugar and edible oils, with wheat prices increasing the most in past months.
Corn prices are about 73 percent higher than they were last year, and sugar has seen its price rise by about that much. Wheat has become more expensive because of fears of crop damage from severe weather in such major producers as Australia and China.
"The only reprieve we have at the moment is the fact that global rice prices have not matched the dramatic rises in wheat and other prices," Mr. Zoellick said.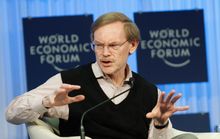 Recent data show that rice prices have risen at a slower rate and look to remain steady but still "need monitoring though" because some countries have dealt with an extreme rise in domestic rice prices, while others have not.
Rising prices for grains also find their way into prices for meat, milk and other products from animals reliant on feed grains. India and China in particular, the report said, have seen strong inflation in prices for fruits, vegetables, milk and meat. The report also cited an "outbreak of the foot and mouth disease" in Mongolia along with extreme winter weather there in 2010. This led to a 32 percent increase in average mutton meat prices by the end of 2010.
These critical rises in food prices have pushed "about 44 million people into extreme poverty." According to the report, only a few factors kept that number from rising, including the slower increase in rice prices and good harvests in Africa for such staples as corn and cassava.
Higher poverty means people eat less and/or eat inferior, cheaper foods, producing "nutritional setbacks" that Food Price Watch stated will be especially severe for infants and pregnant women.
World Bank released its report just a few days before the Group of 20 Meeting of Finance Ministers and Central Bank Governors in Paris, and its president emphasized the need for "G-20 to put food first."
"In 2008, there were food riots. While not the primary cause for the political instability we see today in the Middle East, rising prices have nevertheless been an aggravating factor that could become more serious," Mr. Zoellick said. "We need global action to ensure we do a better job of feeding the hungry before we face the future challenges of feeding the expected 9 billion people in the world in 2050."