The defamation lawsuit filed by a former Obama administration official against conservative blogger Andrew Breitbart promises to test the application of traditional libel laws in an emerging media landscape in which blogs and social networking websites have taken the place of newspapers and television broadcasts.
Media and legal observers say the case bears watching because of that, but that it largely will hinge on well-established law and precedents despite its high-tech setting.
"While this is one of the first high-profile blog-based libel suits, the basic underpinning is pretty simple — was the gist of the material posted not substantially true," Jeff Stein, a communications professor at Wartburg College in Iowa who also is a lawyer, wrote in an e-mail to The Washington Times. "I think she can win on that."
The lawsuit stems from a highly charged incident last summer in which Mr. Breitbart posted a video clip of Shirley Sherrod, who is black, delivering a speech at an NAACP event. In the video, she describes an incident in which she was reluctant to help a poor white farmer. The video ignited a media firestorm and ultimately led the Obama administration to force Mrs. Sherrod's resignation as the Department of Agriculture's Georgia state director of rural development.
Soon afterward, the National Association for the Advancement of Colored People released a video of the full speech showing that Mrs. Sherrod was describing an episode that took place more than two decades ago. The speech was about how she overcame her initial prejudice and helped the poor white farmer, an account the farmer corroborated. The speech's overall message was the importance of helping the poor, regardless of their race.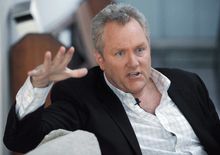 The White House apologized to Mrs. Sherrod and offered her a higher-level position in the Agriculture Department. She declined the offer.
According to the lawsuit, Mr. Breitbart posted the video clip in attempt to show racism within the NAACP because he was angered by the organization's accusations of racism against the tea party.
In a statement on his website, Mr. Breitbart expressed confidence that he will be vindicated, even hinting that the lawsuit was filed in retaliation for his work exposing what he called wide-ranging fraud that relates to reparations paid to black farmers, which he suggests involved Mrs. Sherrod.
"I can promise you this: neither I, nor my journalistic websites, will or can be silenced by the institutional left, which is obviously funding this lawsuit," he said. "I welcome the judicial discovery process, including finding out which groups are doing so."
Mrs. Sherrod, in a statement sent to Media Matters, a liberal media-watchdog group, said the lawsuit was not about politics or race.
"It is not about Right versus Left, the NAACP or the Tea Party. It is about how quickly, in today's Internet media environment, a person's good name can become 'collateral damage' in an overheated political debate," she said. "I strongly believe in a free press and a full discussion of public issues, but not in deliberate distortions of the truth.
"Mr. Breitbart has never apologized for what he did to me and continues — to this day — to make the same slurs about my character," she said.
Analysts told The Times that the case could be difficult for Mrs. Sherrod to win, especially if the court determines she is a public figure instead of a private citizen. Public figures have a higher burden in defamation cases, having to prove "actual malice" or "reckless disregard for the truth." A private citizen must prove only that a media outlet was negligent.
"This has been a difficult standard to prove in most cases, since it requires to prove some knowledge of the intent of the person who did the publishing of the remark," Richard J. Goedkoop, a communications professor at LaSalle University, wrote in an e-mail to The Times.
Mrs. Sherrod's attorneys argue in the lawsuit that "the extensive and misleading nature of the defendant's edits of the video" along with the additional text on the website show the "defendants' defamation and disparagement of Mrs. Sherrod was done intentionally and with actual malice."