The United States is "gravely concerned" about the widespread violence in Libya, as reports Sunday said the country's second-largest city, Benghazi, was in the hands of rebel soldiers and anti-government protesters who had occupied the official residence of dictator Moammar Gadhafi.
"The president is being kept up to speed on events in Libya," a senior administration official told The Washington Times late Sunday.
"In Benghazi and in the coastal areas, we are very concerned about reports of security forces firing on peaceful protesters," U.S. Ambassador to the United Nations Susan E. Rice said.
"We've condemned that violence," she told NBC's "Meet the Press." "Our view is that in Libya, as throughout the region, the peaceful protests need to be respected."
A statement from the U.S. State Department later Sunday added that officials are "gravely concerned with disturbing reports and images coming out of Libya," where human-rights groups say as many as 200 protesters have been killed in clashes with security forces in recent days.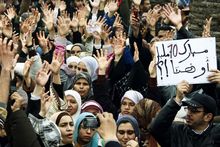 "We are working to ascertain the facts," said the statement from spokesman P.J. Crowley.
He said the U.S. has raised concerns with "a number of Libyan officials, including Libyan Foreign Minister Musa Kasa, our strong objections to the use of lethal force against peaceful demonstrators."
Residents of Benghazi in eastern Libya told reporters by telephone that the city was liberated after soldiers threw their lot with the protesters about 8 p.m. local time.
"Benghazi is free," a resident named only as Maari told Al Jazeera English TV. "Now it is all over. The whole system has just collapsed," he added.
He said members of pro-Gadhafi security forces had left the city.
"They had no choice. We had them surrounded for three days," he said, noting that the protesters had taken heavy casualties in the past 48 hours but had fought back with "homemade bombs."
Another resident, Yasid, told the television network that "Gadhafi's residence [in Benghazi] is now under the control of the people," after rebel military units in the town defected and joined the protesters.
"There is no one supporting Gadhafi in Benghazi," he said, "The army is with the people."
Other reports said more than 100,000 protesters had taken to streets in funeral processions Sunday and that soldiers had told officials at a hospital they had overpowered forces loyal to Col. Gadhafi.
The reports could not be independently confirmed because the Libyan government has banned reporters from the city.