MADISON, Wis. | On a prank call that quickly spread across the Internet, Wisconsin Gov. Scott Walker was duped into discussing his strategy to undercut public employee unions in the country's budget stalemate, promising never to give in and joking that he would use a baseball bat in his office to go after political opponents.
The Republican governor believed the caller was a conservative billionaire named David Koch, but it was actually the editor of a liberal online newspaper. The two talked for at least 20 minutes — a conversation in which the governor described several potential ways to pressure Democrats to return to the Statehouse and revealed that his supporters had considered secretly planting people in pro-union protest crowds to stir up trouble.
The call also showed Mr. Walker's close relationship with two billionaire brothers who have poured millions of dollars into conservative political causes, including Mr. Walker's campaign last year.
The audio was posted by the Buffalo Beast, a left-leaning website based in Buffalo, N.Y., and quickly went viral.
Walker spokesman Cullen Werwie confirmed that it was the governor's voice on the call. At a news conference, Mr. Walker acknowledged being deceived but stuck to his message that the union changes were needed to balance Wisconsin's budget.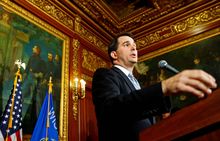 "I'm not going to let one prank phone call be a distraction from the job we have to do," Mr. Walker said. "The things I said are the things I've said publicly all the time."
The ripple effects of the battle in Madison were being felt in other parts of the country, often pitting newly elected Republican governors against Democratic-leaning unions representing teachers and other public sector workers.
Florida Gov. Rick Scott said Wednesday he expects his proposed overhaul of the state's pension system will be met with protests similar to those in Madison. But the Republican added his state employees are compensated too well and that "it's not fair to taxpayers" to continue the practice.
"It can't be that if you work in government you get paid better or you get better fringe benefits than if you work in the private sector," he said on the "America's Morning News" radio program, news partner with The Washington Times.
When asked if he thought angry public workers soon will be descending on the capital of Tallahassee to protest his plan to make state employees pay 5 percent of their salaries into their retirement accounts, he said, "I'd be shocked if they're not."
In Ohio, GOP leaders in the state Senate said they plan to change a collective-bargaining bill to allow state workers the chance to negotiate wages, but the measure would now ban public employees from striking.
Senate President Tom Niehaus told reporters Wednesday the change comes after lawmakers considered testimony on the bill. Mr. Niehaus, a Republican, said he did not view the revisions as a compromise of the bill's intent.
The initial bill called for a ban on collective bargaining by state workers. It drew thousands of protesters to the Statehouse and prompted a visit by the Rev. Jesse Jackson.
And in Indiana, the Republican House speaker said Wednesday he won't give in to Democrats who fled the state to block contentious labor and education proposals — the same strategy employed first last week in Wisconsin.
As in Wisconsin, most Indiana House Democrats fled to neighboring Illinois and holed up in a budget hotel in an effort to block votes on what they viewed as threatening legislation, denying the chamber the quorum needed to conduct business.