A millennia-old necklace that was sold in a 2007 Christie's auction for $100,000 was returned Thursday to its rightful owner — the government of Iraq.
The necklace — a fading, gold-etched, lapis lazuli chain of beads from the Mesopotamian era — was one of many artifacts that had been stolen by U.S. troops and contractors from museums and archaeological sites in Iraq during the U.S.-led invasion against Saddam Hussein's regime.
On Thursday, U.S. officials returned those antiquities to Iraqi government representatives in a ceremony at the Iraqi Cultural Center in Washington.
"These artifacts are truly invaluable, and the FBI is pleased to be able to return them to their rightful owner," said Special Agent Ronald Hosko of the bureau's Washington field office. "Working abroad does not entitle anyone to remove historic artifacts and treat them as mementos for illegal sale."
Two representatives from the FBI and Immigration and Customs Enforcement (ICE) returned the more than 200 items to Iraqi Ambassador Samir Sumaidaie on Thursday, pledging their departments' continued commitment to restoring Iraq's stolen cultural heritage.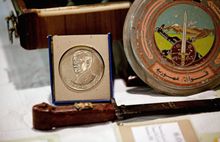 Mr. Sumaidaie will fly to Baghdad with the collection to present it to Iraq's Foreign Ministry, which will place the objects in national museums.
U.S. officials said the objects were found in four FBI and ICE-led missions that ranged from routine customs inspections to answering Craigslist ads in Arizona, Florida, New Jersey and Texas.
In 2003, ICE officials uncovered an ancient treasure trove in a U.S. military container in Jacksonville, Fla. A surgical team based in Iraq had hidden behind defibrillators several paintings, silverware and a teapot, a Persian carpet and two AK-47s from the Saddam era.
Other objects were found on Internet auction sites.
In 2010, a marble slab from Saddam's palace was advertised on Craigslist in El Paso, Texas. Federal officials, posing as buyers, discovered the slab in a soldier's garage along with other Saddam-era items.
In an investigation of contracting corruption, the FBI discovered that subcontractors in Iraq were smuggling Babylonian artifacts. Several U.S. contractors mentioned that people had given or sold Babylonian clay tablets as kickbacks and bribes, "not knowing their intrinsic value," Mr. Hosko said.
The terra cotta plaques inscribed with images of human and animal divinities are small enough to fit in the palm of a hand, but are between 2,500 and 4,000 years old.
Embassy officials said the artifacts are priceless.
All told, more than 15,000 items were stolen from the Iraqi National Museum in Baghdad in 2003, in what the ambassador on Thursday called a "heartbreaking" event.
Many of the recovered objects were stolen by U.S. citizens, but international authorities have found Iraqi antiquities in Germany, Britain, Lebanon, Saudi Arabia and Spain, said Mohammed Al-Fityan, second secretary of the Iraqi Embassy.