Within the space of a week, the nation has witnessed worst performances on record of new-home sales, home prices and building — evidence that the housing market has sunk into a double-dip recession that poses a significant drag on the overall economy.
Never before has the U.S. economy staged a recovery while the housing market was in such a deep slump, although analysts are expecting it to defy the historical odds and maintain growth this year. But the news on housing in recent days is giving even the biggest optimists some pause.
The Commerce Department reported Wednesday that sales of new homes plummeted a breathtaking 16.9 percent last month to a record low annual rate of 250,000. On Monday, the National Association of Realtors found that prices of existing homes plunged again in every region of the country and are down by more than a third on average since the recession began.
Perhaps in the most dismal housing news to date, new starts and permits for residential housing construction nose-dived to the lowest levels in more than half a century of record-keeping, Commerce reported last week, in what one economist described as the "worst report" he has ever seen on housing.
"The new and existing housing markets are in a very precarious situation," said Chris G. Christopher, an economist at IHS Global Insight. "The bottom line is extremely simple to interpret. The housing market is still very depressed and a major drag on the economy."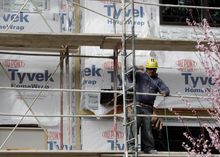 Without the assist from a recovery in the housing market that usually occurs after a recession, the economic recovery remains "extremely fragile," he said.
The housing slump poses a major obstacle for consumers and homeowners because the biggest home-price drops since the Great Depression have cut into their main source of wealth and made it difficult or impossible to refinance, sell homes or even move from one place to another.
Huge price drops ranging up to 60 percent in some distressed areas of the country also increase the likelihood that more people will end up defaulting on mortgages that are worth far more than the homes they finance and that homeowners can no longer afford to pay, economists say.
"The trajectory of home prices has tremendous economic significance" because it could lead to more defaults and undermine the financial system, said Peter Schiff, chief executive of Euro Pacific Capital.
He is predicting that home prices will fall another 20 percent on average, prompting a new rash of mortgage defaults that he said "could produce losses that overwhelm banks and trigger another, deeper financial crisis."
The only reason the housing market appeared to stabilize for a while last year, Mr. Schiff said, is because of a lengthy and costly list of government efforts to prop it up, led by the Federal Reserve's moves to draw down mortgage interest rates to record lows of less than 5 percent.
"Government intervention stopped the free fall," he said. "The homebuyer's tax credit, record low interest rates, government mortgage-assistance programs and the increased presence of Fannie Mae, Freddie Mac and the Federal Housing Administration in the mortgage-buying business have, for now, put something of a floor under house prices."
Although these moves stabilized housing for a while, the market has been unable to stage a recovery even with most of these artificial props still in place. Mr. Schiff noted that the mortgage market remains "dysfunctional" even with extensive government subsidies.
"Without government guarantees, no private lenders would be active in the mortgage market" and no home sales would be occurring at all without the "ridiculously low interest rates" engineered by the Fed, he said.
Given this extreme dependence on the federal government for life support, "these are not conditions that inspire confidence for a recovery" anytime soon, he said, yet "most economists concede that a lasting general recovery is unlikely without a recovery in the housing market."