Former U.S. military officers are warning against any direct military action in Libya and other unsettled Arab nations, as the Pentagon works furiously on a list of options to give the president.
One insider said the Pentagon was "asleep" until about a week ago, when the White House took political heat for dispatching a ferry to pick up stranded Americans in Libya while Britain sent a warship for its citizens.
"At least the halls are no longer sleepy in the Pentagon," this official said.
The Pentagon is working on a way to set up a "no-fly" zone to keep Libyan dictator Moammar Gadhafi from bombing his own people. There is also talk of a humanitarian airlift that would not put any, or a limited number of, U.S. troops on the ground. Also under discussion is whether to advise the rebels controlling eastern Libya.
Retired Air Force Gen. Charles Horner, who ran the 1991 Operation Desert Storm air war, said he would advise the president against everything except some type of humanitarian relief. The U.S. does not know the rebels or their ultimate objectives, he said.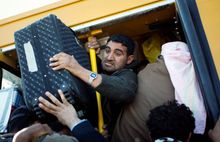 "I don't think you want to get involved in a civil war in Libya," Gen. Horner said. "The no-fly zone, all you're doing is taking away the Libyan air force's ability to attack insurgents from the air. When you don't know what's going on, you don't stick your nose in it. I wouldn't touch it with a 10-foot pole."
He said the military could have sent cargo jets from Europe instead of a ferry to evacuate Americans.
"The danger is the administration has been accused of screwing everything up with wishy-washy, and probably what they're doing is desperately flailing trying to appear to be decisive," said the retired four-star general.
James Carafano, an analyst at the Heritage Foundation and a retired Army officer, said the administration should remember the lessons of Somalia, where a humanitarian mission in 1993 ballooned into a futile military battle to subdue tribal rebels and resulted in an embarrassing U.S. withdrawal.
The fear is, he said, "this administration will do something not because it necessarily makes sense in a credible, feasible, suitable standpoint, but because the pressure is so intense that they do something for the sake of doing something, which is a huge mistake."
"I'm not yet convinced that a no-fly zone makes sense," Mr. Carafano said. "They look at this no-fly zone as some sort of easy button, but are you encouraging people who are going to be as bad as Gadhafi to rise up?
"This, to me, is looking more and more like Somalia. You get people who are very conservative saying, 'Well, we should jump in there because, if we don't, it will make America look weak-kneed.'
"But the problem with these guys [in the Obama administration] is they'll respond to that and jump in and then they'll get a black eye like Lebanon or Somalia and then they'll pull out. And then that's even a bigger damage to U.S. prestige," he said.
The emerging Libyan civil war is taxing the U.S. war in Afghanistan and its presence in the Persian Gulf, where the U.S.-friendly governments of Yemen and Bahrain face protesters.
The Pentagon has positioned the amphibious assault ship USS Kearsage off the Libyan coast and augmented the ship with 400 Marines from the U.S. because most of its Marine Expeditionary Units remain in Afghanistan.