The federal government posted its largest monthly deficit in history in February, a $223 billion shortfall that put a sharp point on the current fight on Capitol Hill about how deeply to cut this year's spending.
That one-month figure, which came in a preliminary report from the Congressional Budget Office, dwarfs even the most robust cuts being talked about on the Hill, and underscores just how much work lawmakers have to do to get the government's finances in balance again.
The Senate plans to vote Tuesday on competing proposals to cut spending, but Democrats have rejected GOP-backed cuts of more than $50 billion, and Republicans have ruled out Democrats' cuts of less than $10 billion, meaning neither plan will draw the 60 votes needed to overcome a filibuster and pass.
"We've all done the math and we all know how these votes will turn out: Neither proposal will pass, which means neither will reach the president's desk as written. We'll go back to square one and back to the negotiating table," said Senate Majority Leader Harry Reid, Nevada Democrat.
The two sides are facing a March 18 deadline, which is when the current stopgap funding bill expires. Without a new spending agreement by then, the government would shut down.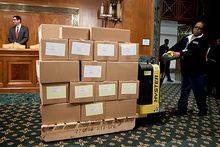 The House two weeks ago passed a bill that would cut $57 billion more from 2010 spending levels, including major reductions in a number of domestic programs.
Over the weekend, a top Senate Democrat said his party can accept no more than $6 billion in domestic cuts, and pointed to the proposal his colleagues introduced Friday that trims from several areas.
But a new set of numbers from the CBO indicates that Senate Democrats' proposal actually totals only $4.7 billion when measured as reductions compared with the previous year's spending.
So far, budget negotiations have not produced much visible progress.
President Obama designated Vice President Joseph R. Biden Jr. as his point man in the conversations, and Mr. Biden convened a meeting with congressional leaders last Thursday at the Capitol. But Mr. Biden is traveling in Europe this week on a long-planned trip to meet with foreign leaders.
White House press secretary Jay Carney hinted that Mr. Biden could still participate by phone, but declined to say whether anyone else was taking the lead in the talks in his absence.
"I'm not going to specify, simply to say that a variety of staff members, senior staff members, have been in conversations with folks on the Hill about this," the spokesman said.
Republicans argue that Congress needs to tackle not only short-term spending, but long-term growth in the costs of Social Security and Medicare as well.
"Something must be done, and now is the time to do it. Republicans are ready and willing. Where is the president?" said Senate Minority Leader Mitch McConnell, Kentucky Republican. "Suddenly, at the moment when we can actually do something about all this, he's silent."
According to the CBO, the government has notched a $642 billion deficit for the first five months of fiscal 2011, which is slightly less than last year's pace. Income tax revenues are rising faster than spending, which accounts for the marginally improved picture.