ORANGE, Va. — With the blessing of Civil War preservationists, Wal-Mart Stores Inc. said Monday that it has selected a new site for a store about three miles from a previously proposed location near where Robert E. Lee and Ulysses S. Grant first met in battle.
The decision was hailed by preservation groups, who convinced the world's largest retailer to abandon its plans to build near the Wilderness Battlefield in Locust Grove. The settlement was announced in January as the dispute was headed to trial.
Preservation groups that enlisted the support of hundreds of historians to oppose the store said the new location is "good for the battlefield and good for the country."
"By honoring its public commitment to choose an alternate site in Orange County, Wal-Mart has demonstrated that preservation groups and retailers can work together to find universally beneficial resolutions," James Lighthizer, president of the Civil War Trust, said in a statement.
The Walmart Supercenter first proposed for Orange County was within a cannonball's shot of the battlefield, considered by historians as a critical and especially bloody chapter in the Civil War.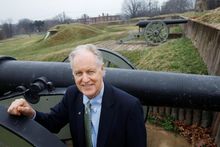 An estimated 185,000 Union and Confederate troops fought over three days in May 1864 in the Battle of the Wilderness, leaving 30,000 killed, injured or missing. The war ended 11 months later.
Opponents waged an unrelenting campaign to encourage Wal-Mart to walk away from the 50-acre property.
Filmmaker Ken Burns, actor Robert Duvall and Pulitzer Prize-winning historian James McPherson added their voices against the store, and Mr. McPherson was scheduled to testify for preservation groups.
The new site is a commercially zoned property 3 miles from the Wilderness. As part of a settlement reached in January, Wal-Mart said it would preserve the property that was once destined to be a Supercenter.
"This has been a collaborative process that we believe resulted in a successful outcome for everyone involved," said Eric Zorn, Wal-Mart's executive vice president of real estate.