SPARTANBURG, S.C. — Two of the top Republican presidential candidates said Saturday they'd go to war against Iran to prevent it from acquiring nuclear weapons, following a new report that suggests the leaders of the Middle Eastern nation continue to pursue such weapons.
During a debate at Wofford College, former Massachusetts Gov. Mitt Romney and Newt Gingrich criticized President Obama's handling of the situation, while clearly stating the use of military force is a last resort that has to be on the table.
"The president should have built a credible threat of military action and made it very clear that the United States of America is willing, in the final analysis, if necessary, to take military action to keep Iran from having a nuclear weapon," Romney said. "One thing you can know and that is if we re-elect Barack Obama, Iran will have a nuclear weapon. And if we elect Mitt Romney — if you elect me as the next president — they will not have a nuclear weapon."
The early agreement between Mr. Romney and Mr. Gingrich kicked off a 90-minute debate at Wofford College and gave way to the candidates spelling out sharp differences over whether waterboarding amounted to torture, drone strikes against U.S. citizens are legal and foreign assistance to Pakistan and other countries should be reconsidered.
The issue of Iran immediately took center stage, thanks to the report released last week by the International Atomic Energy Agencies report that said Iran was conducting experiments "relevant to the development of a nuclear device."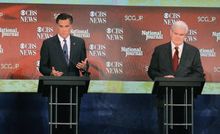 To prevent the Middle Eastern nation from moving in that direction, several of the candidates — with the exception of Texas Rep. Ron Paul — agreed that the federal government must combine stiffer economic sanctions, support for the nation's dissidents and covert operations aimed at eliminate scientists and systems involved.
"First of all, maximum covert operations to block and disrupt the Iranian program, including taking out their scientists, including breaking up their systems, all of it covertly, all of it deniable," Mr. Gingrich said.
But they did not all agree on whether — or when — to use military force, with Mr. Romney and Mr. Gingrich saying they would.
Former Pennsylvania Sen. Rick Santorum argued that the United States and Israel should already be planning military strikes against Iran's nuclear development sites. Herman Cain said that he would "would not use military means at this time."
Mr. Paul pushed back, arguing that "it is not worth war to prevent the Iranian nuke" and, even if the president wanted to do it, he'd have to get authorization by Congress through a declaration of war.
The candidates — a list that also included Texas Gov. Rick Perry, Rep. Michele Bachmann and former Utah Gov. Jon Huntsman — juggled questions over funding for Pakistan, the president's plan to wind down the wars in Iraq and Afghanistan and the emergence of China.
"Some say the 21st century is the century of China, but I don't believe that," Mr. Perry said. "Reagan said that Russia will end up on the ash heap of history. I think the Communist Chinese government will end up on the ash heap, too."
Mr. Perry also was the first to suggest that the United States should start from zero every year when it considers foreign assistance. He singled out the billions sent annually to Pakistan, which he suggested is putting the lives of American soldiers in jeopardy.
"It's time for us as a country to say 'no' to foreign aid to countries that don't support the United States of America," he said.
Asked whether Pakistan was a friend or foe, Mrs. Bachmann said "we need to understand the intricacies of the Middle East" and that Israel is under increasing threat.