New emails in the congressional probe of failed solar panel maker Solyndra LLC are raising sharp questions about claims that a fundraiser to President Obama never got involved in pushing for loans to the now-bankrupt company.
Oklahoma billionaire George Kaiser, whose foundation was heavily invested in Solyndra, told two associates to "pursue your contacts" in the White House when discussing the company in the fall of 2010, according to emails released Wednesday by House Republicans.
Another email from Ken Levit, executive director of the foundation, to Steve Mitchell, who served on Solyndra's board, laid bare the extent of the enthusiasm for the project inside the White House.
"They about had an orgasm in [Vice President Joseph R.] Biden's office when we mentioned Solyndra," the Feb. 27, 2010, email states.
Pressing the White House to release documents in response to a recent congressional subpoena, leaders on the House Energy and Commerce Committee on Wednesday questioned the notion that political influence played no role in more than a half-billion dollars in government loans awarded to California-based Solyndra.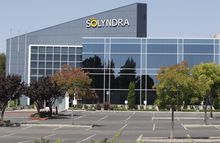 The company went bankrupt in September, just two years after winning a $535 million loan guarantee package from the Department of Energy. Its investors included the George Kaiser Family Foundation. Mr. Kaiser was a fundraiser for Barack Obama in the 2008 presidential race.
"We note that the White House has repeatedly stated that no political influence was brought to bear with regard to Solyndra, and that Mr. George Kaiser, a Solyndra investor and Obama fundraiser, never discussed Solyndra" during his 17 visits to the White House, Rep. Fred Upton, Michigan Republican, and Cliff Stearns, Florida Republican, wrote in a letter to the White House on Wednesday.
Mr. Upton is chairman of the House Energy and Commerce Committee, and Mr. Stearns chairs the investigations subcommittee that has been looking into the Solyndra collapse for months.
"Documents recently obtained by the Committee directly contradict those statements," the lawmakers wrote, citing several emails.
In one email highlighted by Republicans, Mr. Levit wrote to an undisclosed recipient about a meeting with staff in Mr. Biden's office who were "all big fans of Solyndra."
However, a White House spokesman and House Democrats disputed any political influence in the awarding of loans to Solyndra, accusing congressional Republicans on Wednesday of selectively releasing documents. Indeed, they say Mr. Kaiser rejected any opportunity to lobby the White House on behalf of Solyndra.
"Even the documents cherry-picked by House Republicans today affirm what we have said all along: this loan was a decision made on the merits at the Department of Energy," White House spokesman Eric Schultz said Wednesday in an email to The Washington Times.
"Nothing in the 85,000 pages of documents produced thus far by the administration or in these four indicate any favoritism to political supporters. We wish that House Republicans on the Energy and Commerce Committee were as zealous about creating jobs as they were about this oversight investigation."
Political calculus
Despite reports that the White House has insisted Mr. Kaiser never broached the subject of Solyndra during his numerous visits to the White House, committee leaders say the newly obtained documents contradict that assertion.