Congress passed three free-trade agreements Wednesday night with South Korea, Colombia and Panama in what is the nation's biggest trade deal since NAFTA and the first for the Obama administration, with the promise of boosting the economy through the creation of tens of thousands of jobs.
The largest of the three deals is with South Korea, which alone could create some 70,000 jobs here and increase U.S. exports by more than $10 billion.
President Obama called the passage a major win for American businesses that will open new markets for American goods.
Both chambers spent all day debating the pacts and putting the final tweaks on the agreements that had been in the works for several years. In the House, the bipartisan votes were 300-129 in favor of Panama, 278-151 for South Korea and 262-167 for Colombia. They also renewed trade adjustment assistance by a 307-122 vote.
In the Senate, South Korea passed 83-15; Panama, 77-22; and Colombia, 66-33.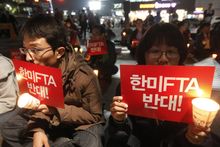 "These jobs are there, they're available to us, and we've got to get on with these trade agreements," said Rep. Mike Kelly, Pennsylvania Republican.
Once signed by Mr. Obama, the deals could go into effect in a few months.
This is the largest American free-trade deal since the North American Free Trade Agreement in 1995. The nation's last trade pact was completed with Peru in 2007.
Supporters, who include Republicans and many Democrats, say these agreements will create tens of thousands of jobs for Americans and increase U.S. exports by $13 billion a year.
"I believe that trade means jobs," said Rep. Mike Pence, Indiana Republican, "and America and Indiana need jobs."
Opponents, a minority of Democrats who have lost traction with their own party, tried to compare the three trade pacts to NAFTA, saying they will hurt American jobs and companies.
"The question should be, 'Will these trade agreements create jobs?'" Rep. Peter A. DeFazio, Oregon Democrat, said on the House floor. "The answer is, 'Yes.' Will they create jobs in America? The answer is, 'No.'"
He was joined in opposition by Rep. Marcy Kaptur, Ohio Democrat. "The problem with our trade policies is, we export more jobs than products," she said.
Treaty supporters said the U.S. will benefit on balance because economies such as that of South Korea have far more barriers to U.S. exports than the U.S. puts on their imports.
Both parties argued that these deals would help level the playing field.