ANNAPOLIS — A Maryland commission recommended Tuesday that the state raise its gas tax by more than 60 percent over the next three years, but members acknowledged that taxpayers facing a dire economy could find the increase hard to swallow.
The proposed hike, approved by the state-appointed Blue Ribbon Commission on Maryland Transportation Funding, would raise the gas tax on wholesalers by 5 cents a year for three years, from the current rate of 23.5 cents per gallon.
The move could generate nearly $500 million in annual revenue and is part of $870 million in annual tax-and-fee increases recommended by the commission. The funds would help pay for road and transit projects and restore the state's long-borrowed-against Transportation Trust Fund.
The Democrat-controlled General Assembly likely will consider the increases during the legislative session that begins in January. Gov. Martin O'Malley, a Democrat, has signaled that he would approve a gas-tax hike among recommended increases.
Lt. Gov. Anthony G. Brown urged state lawmakers during a special assembly session last week to consider such an increase. Mr. O'Malley has not ruled out raising the gas tax as part of his proposed budget - a move that would make it more likely to pass than if a stand-alone measure is proposed and debated by legislators.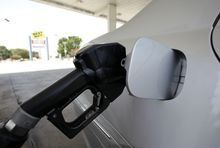 "I think we're at a point now where we can no longer borrow," said Delegate Tawanna P. Gaines, Prince George's Democrat and a commission member. "Additional revenue is definitely needed."
Maryland has not increased its gas tax since 1992.
Supporters say that slumping state revenues - compounded by more fuel-efficient vehicles and the public's decreasing reliance on cars - have put state roads and bridges in a general state of disrepair.
Opponents say the proposed gas-tax increase would further strain motorists now paying well above $3 a gallon. Maryland would in three years go from having the 31st-highest gas-tax rate among U.S. states to what currently would be the eighth-highest rate. Connecticut has the highest gas-tax rate at 49.6 cents, while New York charges 49.5 cents.
Gas-tax increases have been a difficult sell in other state legislatures. In addition to Maryland, Connecticut and Utah abandoned proposals this year to raise gas taxes under heavy scrutiny. Georgia and North Carolina raised their gas taxes this year by 2.8 and 2.5 cents a gallon, respectively. However, the increases were required by laws that keep the rates in line with inflation, not approved by a vote.
The Maryland proposal also would include an index component that would allow for automatic gas-tax increases consistent with inflation - a move that would spare legislators from having to approve future increases.
Officials said the gas tax is imposed on gas distributors, so the 15-cents-per-gallon increase would not necessarily result in an identical increase at the pump.
But commission member and AAA Mid-Atlantic spokesman Lon Anderson said the tax hike eventually would trickle down to motorists.
"Over the long period, it certainly is reflected at the pump," he said. "You only need to drive to Virginia to see that gas is consistently cheaper over there … because Maryland has a higher gas tax."
The commission also will recommend that the state increase its vehicle-registration fees by 50 percent, increase titling taxes from 6 percent to 6.5 percent, double vehicle-inspection fees from $14 to $28 and increase transit fares on Maryland Transit Administration services.