Israel is bracing for one of the greatest diplomatic challenges since its founding — a Palestinian bid for U.N. membership that has galvanized the Jewish state's adversaries and left it searching for friends.
With a U.N. vote less than a week away, U.S. lawmakers threatened Wednesday to cut aid to the Palestinian Authority, while Israel weighed its own response.
The Obama administration, which says Palestinians should gain statehood only as part of negotiations with Israel, has vowed to veto the application if it comes before the U.N. Security Council.
Palestinians still could petition the General Assembly, where they have majority support, to upgrade the Palestine Liberation Organization's (PLO) status from "observer" to "nonmember observer state" — a designation that allows membership on several U.N. panels.
Analysts have debated the consequences of the U.N. gambit, and some fear an outbreak of violence in the Middle East after the vote.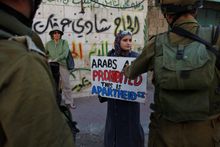 The U.N. showdown comes as Israel finds itself embroiled in separate diplomatic crises with Turkey and Egypt, two erstwhile regional allies.
Israel's ambassador to Turkey was expelled this month after Israel refused to apologize for a deadly 2010 raid on a Turkish-sponsored Gaza-bound flotilla. Israel's envoy to Egypt was forced to return home Friday after protesters stormed the Israeli Embassy.
Turkish Prime Minister Recep Tayyip Erdogan, who met with Palestinian Authority President Mahmoud Abbas in Cairo on Wednesday, has threatened to refer Israel's blockade of the Gaza Strip to the International Court of Justice and have Turkish warships escort flotillas.
The confluence of diplomatic crises has given ammunition to domestic opponents of Israeli Prime Minister Benjamin Netanyahu, with opposition leader Tzipi Livni accusing his right-wing government Wednesday of leading the Jewish state to "to the worst possible diplomatic situation."
"People must ask themselves, after all the slogans, if Israel today is stronger or weaker," she said. "Is Israel's security better or in greater doubt?"
Ms. Livni, who as foreign minister in the previous government led Israel in final-status talks with the Palestinians, said that "the only way to protect Israel's interests is through a diplomatic process."
The Palestinians walked out of short-lived, U.S.-sponsored talks in September after Israel refused to extend a 10-month freeze on West Bank settlements that it had imposed at the behest of the Obama administration.
The Palestinians have been a people without a state since Israel was founded in the land formerly known as Palestine in the aftermath of World War II. They reside in divided territories — the West Bank, which is controlled by the Palestinian Authority, and the Gaza Strip run by Hamas, an Islamist militant group that seeks Israel's destruction.
Their resort to unilateral action in the U.N. stems from a widely held Palestinian belief that Mr. Netanyahu is unwilling to offer the same sort of concessions that his predecessor Ehud Olmert did in talks with Mr. Abbas.
On Wednesday, a senior aide to Mr. Abbas said the Palestinians would return to negotiations if the Israeli government announces another freeze on Jewish settlements in the West Bank and agrees to talks based on President Obama's formulation proposed in May that the borders of the two states be based on Israel's pre-1967 frontiers with "mutually agreed swaps."