It's a little election with some potentially momentous consequences.
Most of the national focus on Iowa centers on its first-in-the-nation presidential caucuses. But an obscure special election for a state legislative seat in the eastern part of the state could decisively shift the balance of power in Des Moines, and give resurgent Republicans the ability to move a slew of items on their stalled agenda.
The fate of gay marriage in Iowa also may hang in the balance, and politicians here see the possibility of a rush of conservative legislation mirroring what happened in Wisconsin and Ohio.
Voters in the Hawkeye State's Senate District 18 will head to the polls Nov. 8 for a special election that the Democrats must win to hang onto their last vestige of political power in state government. They hold just a slim 25-24 Senate majority and the District 18 seat is up for grabs after Republican Gov. Terry E. Branstad, in a move that he denies was politically motivated, nominated Democratic state Sen. Swati Dandekar from Marion earlier this month to a $137,000-a-year post on the Iowa Utilities Board.
If Republicans pick up the seat, the resulting 25-25 split would hand the tie-breaking vote on key measures to Republican Lt. Gov. Kim Reynolds. With the governorship and a 60-40 majority in the Iowa House already in GOP hands, Republicans would hold all the levers of power in Iowa.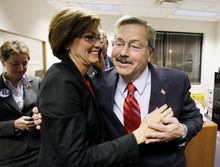 District 18 "will be the epicenter of political activity in Iowa for the next seven weeks," said Matthew N. Strawn, chairman of the state's Republican Party. " … Both organized labor and the traditional liberal social interest groups will definitely have a strong presence, and we anticipate Republican and right-of-center organizations to respond in kind."
Mr. Strawn notes that District 18, encompassing some suburbs and rural areas around Cedar Rapids, has been traditionally a ticket-splitting district, and said Republican activists from around the state will be hitting the pavement in full force.
Democrats have already created a website, keepthemajority.com, to energize supporters, both statewide and nationally, gearing up for what is certain to be a tough — and expensive — battle and one that will play out over a little more than a month.
Political experts predict each side will spend at least $250,000 on the race.
"I think it will probably be the most expensive Senate race in a short time that we've ever had," state Sen. Jack Kibbie, a Democrat and the chamber's president, told the Des Moines Register.
A Republican convention last week in Cedar Rapids nominated Cindy Golding, Linn County Republican Party co-chairwoman, for the seat. Ms. Golding defeated businesswoman Mary Rathje and former U.S. Attorney Matt Dummermuth.
On the Democratic side, the candidate is expected to be former TV news anchorwoman Liz Mathis. The Robins Democrat has worked for more than two decades at TV stations in Waterloo and Cedar Rapids and now is a spokeswoman for Four Oaks, a child-welfare, juvenile justice agency.
Democrats kicked off a door-to-door canvass last weekend to remind residents about the election and to explain how to register to vote if they haven't.
"It's a crucial part of what we are trying to do in keeping our Democratic values moving forward," said state party spokesman Sam Roecker. "In the last [legislative] session, when you look at what Republicans who control the House tried to do … [it was] just policy after policy that did nothing to support the middle class. That seat is what allows us to continue fighting for that."
Among the liberal factions expected to mobilize for this race are supporters of gay marriage, who fear a Republican voting majority could mean a statewide ban on such unions.