✔ Pick of the Pack
Theater: Playhouse Puppetry Slam
When used as an adjective, the word "adult" often is synonymous with seedy. See: "adult" bookstores, "adult" movies and "adult" Greco-Roman wrestling. But put it in front of the word "puppetry," and the meaning changes. Like the expression "male nurse," "adult" applied to puppetry simply distinguishes it from what most of us think of when we think of puppetry - kiddie stuff like "Mr. Rogers' Neighborhood" and "Sesame Street." The Playhouse Puppetry Slam is not those things. It describes its show as "edgy and provocative," with acts that "range from the raunchy and risque to the tender and tear-jerking." Yes, you can experience those themes in more mature settings, but a heartfelt monologue delivered by a puppet is no less a heartfelt monologue for having been delivered by a puppet (as evidenced by puppet fanatic Jason Segel in "Forgetting Sarah Marshall" and "The Muppets"). This year's puppetry slam features skits that are long and short, tried and true, as well as some that are just barely out of the workshop phase. A puppetry buffet, in other words. A word of caution: No one younger than 12 will be admitted.
Saturday at the Puppet Company, 7300 MacArthur Blvd., Glen Echo, Md.
Phone: 301/634-5380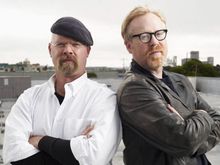 Web: www.puppetryslam.com
Festival: USA Science and Engineering Festival
There's literally something for everyone at this year's USA Science and Engineering Festival. Representatives from Lockheed Martin, the festival's host, will explain how satellites work and demonstrate the vertical-takeoff technology of the F-35. Flight fanatics can try out several flight simulators, including one that allows them to dock with the International Space Station. Adam Savage and Jamie Hyneman of "MythBusters" fame will be on hand, presumably to bust myths. Adam Weiner will explain the physics of Hollywood. Allen Kurzweil will unveil the science behind the potato chip. Charles J. Wysocki will deliver a lecture titled "Why Something Stinks for You, But Not for Me." If none of those offerings float your boat, there are hundreds of others to choose from, including a book fair.
Saturday and Sunday at the Walter E. Washington Convention Center, 801 Mount Vernon Place NW
Phone: 760/420-5893
Web: www.usasciencefestival.org
Gallery Water St. Project
Brandon Hill and Peter Chang of No Kings Collective are two of the hottest art event planners in town. From Activation 2719 to Submerge, every No Kings event - it's hardly fair to call them simply "showings" - features hip street art, flash art, installations, good eats and good music. The collective's latest event is the Water St. Project in Georgetown, which wraps up this weekend. The exhibit thrives on high-speed collaboration, which also happens to be its theme. The last weekend of the event will feature the All Things Go showcase, performances by the Cornel West Theory and the Romantic Movement, and wares from local pop-up innovators SHAM.
Through Sunday at 3401 Water St. NW