TAMPA, Fla. — On the rain-drizzled streets Sunday outside the arena hosting the storm-delayed Republican National Convention, pockets of mostly peaceful protesters — watched closely by hundreds of police officers patrolling on foot, bikes, horseback and motorcycles — vowed to make their voices heard this week.
Some wrote in colored chalk on the pavement in front of the tall Bank of America building where they left behind masses of white balloons bearing the words "99 percent." Others gathered in "Romneyville," a makeshift enclave on the outskirts of downtown, or in city parks before marching to the Tampa Bay Times Forum, carrying signs that read: "Rise up, not trickle down," and "Hey, Mitt: Keep your mitts off Medicare."
"I feel it's my duty to speak up for the 99 percent, to pay it forward for the next generation," said Butch Williams, a 54-year-old rigger from New York. "We are a nation of barn builders, and we are supposed to help one another. I grew up with the middle class. Now I see it slipping away."
A homeless man was arrested Sunday afternoon after police found him wandering the streets brandishing a 9-inch Ka-Bar knife.
"They say it was concealed — it wasn't," Jason Wilson, 31, shouted to reporters and photographers. "Last time I checked, I had the right to bear arms. That's the Second Amendment," he yelled after he was handcuffed.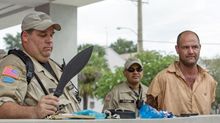 Protesters, many of whom have camped outdoors, said the wind and rain expected Monday from Tropical Storm Isaac would not deter their plans for the week.
Tampa officials, though, warned that if the storm becomes a Category 2 hurricane and threatens safety, people will be ordered off the streets.
"As it is right now, there will be high winds and there will be rain, but it's not going to be something that is going to prohibit anyone from doing what they want to do out on the streets," Tampa Police Chief Jane Castor said. "If it changes and it becomes an issue of public safety, we will order people into shelters."
In Sunday's light drizzle, though, protesters were determined to have their say.
One group paraded with an oversized check made out to "Millionaires," walking along in front of a giant Mitt Romney puppet, mocking the Republican presidential nominee.
"It's a race to the bottom" said John Dougherty, 62, a retired industrial vacuum salesman from near Pittsburgh who traveled to Tampa with the group Pennsylvania Working Families.
"I came here for my kids and grandkids," added the former Marine and father of five, who wore a button that read: "Romney: Bain of the 99 percent." He said, however, that his protest wasn't overly political.
"I used to be a Republican. I didn't change, the party changed," Mr. Dougherty said. "I'm sad by what has happened. They are trying to polarize us. It's now them against us. That's not the way it should be — we are Americans. We should pull together."
• This article based in part on wire service reports.