Madonna has voiced hope that three feminist Russian rockers on trial for performing a "punk prayer" against Vladimir Putin are released soon.
The pop star told the Associated Press during her concert tour of Russia that she supports freedom of speech and hopes the judge will show leniency.
"I'm against censorship, so I hope that the judge is lenient with them and that they are freed soon," she said.
Two weeks before Mr. Putin's return to the presidency in March's election, the three members of the band high-kicked and danced in Moscow's main cathedral while singing "Virgin Mary, drive Putin away!"
The three were arrested, and have spent five months in custody on charges of hooliganism. They face seven years in prison if convicted.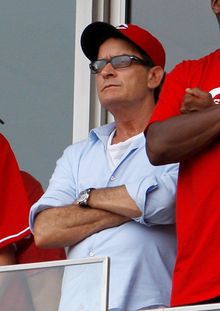 International rights groups have called them prisoners of conscience.
Special Olympics albums get help of Aguilera, Buble
Christina Aguilera, Michael Buble, Dave Matthews and Train are among the acts helping Special Olympics celebrate the 25th anniversary of its "A Very Special Christmas" album series.
Two albums will be released Oct. 16 to celebrate the partnership, which has raised more than $100 million for Special Olympics. "A Very Special Christmas 25th Anniversary" will be released on Big Machine Records and Word Records will issue "A Very Special Christmas: Bringing Peace on Earth."
Members of Train and Francesca Battestelli were to attend a news conference Monday at Blackbird Studios in Nashville, Tenn., to announce the albums.
Other artists involved in the project include Jason Mraz, Vince Gill and Amy Grant, Rascal Flatts, the Band Perry, and Cheap Trick.
Charlie Sheen donates $50K to Reds' Community Fund
Actor Charlie Sheen, a lifelong Cincinnati Reds fan, has pledged to donate $50,000 to the team's Community Fund, matching the amount broadcaster Marty Brennaman raised for charity in return for having his head shaved on the field.
Mr. Sheen and father Martin Sheen, a Dayton, Ohio, native, were at the Reds game against Pittsburgh on Friday and saw Mr. Brennaman get his head shaved. Mr. Brennaman had promised to shave his hair if the Reds won 10 consecutive games and said he would do it publicly if fans donated at least $20,000 to the Reds fund.
That drive generated $50,000, and Charlie Sheen — on hand at Great American Ball Park for the entire weekend series, announced Sunday that he planned to match that amount.