LAS VEGAS — Drones that can fold up and fit in a shoebox, machines that can leap 30 feet into the air through a window to gauge hostile situations for police, driverless surface vehicles that lug soldiers' equipment through the deserts of the Middle East — groundbreaking unmanned technology is opening a world of possibilities for the military, law enforcement and many other sectors.
The exhibit hall of this week's Association of Unmanned Vehicles Systems International conference is filled with robots, gadgets and commercial applications unimaginable even a few years ago.
For those using them, the technological breakthroughs are turning points in the relationship between man and machine, a partnership that they say saves time, money and, most important, lives.
"Unmanned systems are the next evolution. Some of the capabilities are amazing," said Maj. Mark Wuennenberg, who heads the Canadian Air Force's Joint UAV Surveillance and Target Acquisition System.
Canadian military forces, he said, used unmanned aerial vehicles extensively in Afghanistan. The U.S. has made frequent use of the Predator Drone to strike terrorist targets without putting American lives at risk.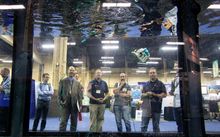 But drones that fire missiles are only the tip of the iceberg, and with the Federal Aviation Administration set to begin granting personal and commercial drone licenses in 2015, the industry has begun to roll out devices with applications stretching far beyond the military theater.
Lockheed Martin Corp. has been touting a variety of items, including a compact drone dubbed Procerus. The small, quiet drone — loaded with digital data links and other features — can be folded up and packed away in a case no bigger than a common shoebox.
The company also has rolled out a "smart" ground vehicle that can follow humans simply by tracking their three-dimensional shapes, ideal for hauling heavy military gear in Afghanistan or elsewhere without dedicating a man or woman to drive it.
Boston Dynamics showcased its "SandFlea" model, a small ground craft capable of jumping 30 feet into the air onto rooftops or through openings.
"It can hop in through a window and no one has to be seen or has to go retrieve it. It will just come back to you," said Taylor Koon, the company's finance administrator.
Other firms are offering small, inexpensive drones geared toward the oil and natural gas industry, which could use them to monitor pipelines as an alternative to flying more-costly traditional planes or helicopters.
Remotely piloted submarines, small airplanes and helicopters that can be controlled from the ground or can be operated by a traditional pilot are among the other hot items set to hit the market.
Small, compact drones are expected to become increasingly popular with police departments that may not be able to afford a helicopter, but could pay $20,000 for a quality, capable UAV.
"We're not looking for the Predator Drone type. We don't need that," said Daniel Schwarzbach, chief financial officer with the Airborne Law Enforcement Association, a nonprofit organization that promotes the use of aircraft among law enforcement agencies.
"We need something lightweight, vertical, and we've got a cost limit," he said. "If you get an active shooter, you want to put this thing up in the air quick to get some situational awareness on the scene. A lot of agencies that can't afford to have manned aircraft, this will give them that capability."