Wednesday is the last time most people living today will see a repeating day, month and year — 12/12/12. A mark of luck? Lottery officials seem to think so. Do engaged couples find it appealing? Of course, say wedding planners. Even the universe found a way to mark the occasion with an early-morning meteor shower.
But a sobering sign of mortality? No way, say mathematicians.
"The thing to celebrate on a day like 12/12/12 is the fact that the human mind is capable of discerning patterns," said Edward Burger, a professor of mathematics at Williams College in Massachusetts. "It's why we create amazing pieces of music, why we create amazing works of art and why we create amazing ideas."
For the past 11 years, people watching the calendar have been treated to a bounty of easily recognizable numerical patterns like 11/11/11, 1/2/03, and even 6/6/06. The sequences have been at the very least easy to remember. Those interested in another repeating date will have to wait until Jan. 1, 2101 — or a little more than 88 years from now.
Mr. Burger is looking forward to what he affectionately calls "Fibo Day," named after the Italian mathematician Fibonacci who developed a sequence of numbers by adding the previous two numbers together. Fibo Day is Jan. 12, 2035, or 01/12/35.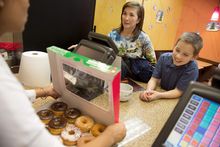 "The real celebration is the ability for human beings to engage their minds in creative ways because it's all random," he said.
Not everyone, however, is taking Wednesday's date as lightly.
Virginia Lottery Executive Director Paula Otto said the option to choose 1-2-1-2 for its Pick 4 drawing sold out Tuesday and was on track to sell out for both day and night drawings on Wednesday.
"Pick 3 and Pick 4 players often have numbers that are meaningful and that are very current and relevant," Ms. Otto said. "12/12/12 is a magical number that doesn't happen very often."
This year the Virginia Lottery has seen a few interesting number combinations, Ms. Otto said, such as Oct. 11, when the Pick 4 was 2-2-1-1, and the next day on Oct. 12, it was 5-5-5-5.
Also seeing an increase in business are courthouses, which are issuing in some cases double the marriage licenses they would normally because of the repeating date.
D.C. Superior Court spokeswoman Leah Gurowitz said the courthouse normally has five or six weddings scheduled each day. On Wednesday, 12 couples are getting married.
In King County, Washington, which includes the city of Seattle, couples must wait three days after receiving their marriage license before they can get married, meaning lovebirds would have had to apply for the license on Saturday.
County spokesman Cameron Satterfield said 67 couples applied for licenses on Saturday, but that number was likely boosted by the fact that last Thursday was the first day same-sex couples could apply for marriage licenses in the state.
"Just to compare to a regular Friday in December, we're about double what we would issue," Mr. Satterfield said. He added that the county also saw a swell of marriage license applications around July 7, 2007.