First of two parts
Nicholas Rastenis has been through the wringer. After getting a master's degree in fine arts from Yale University in 2008, he expected to land a job at a top design firm. But nearly four years later, after many months of joblessness, austerity and anxiety, his ambitions in life have come down quite a bit.
Today, the Chicago resident toils at a photo lab at a major drugstore chain for $9 an hour and no benefits, using few of his creative design skills and earning only a fraction of what he once thought he could command. Still, he has had some designing gigs on the side, and he is glad to at least have a full-time job — any job — after years of doing without.
Mr. Rastenis, like many others of his generation, is a prime victim of the Great Recession. By most measures, he and his compatriots in their teens, 20s and early 30s bore the brunt of the worst job market in modern times. Even with slow economic improvement in the past two years, these so-called "Millennials" remain unemployed and underemployed at the highest rates of any group.
"It's been a very hard road," said Mr. Rastenis, who has taken jobs such as bike-cabbing and waiting tables to make ends meet while trying to land a full-time position in his profession.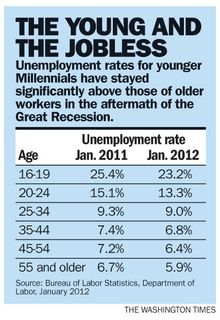 "I'm doing things I never thought I'd be doing. I'm starting to question why I went to college. I could have done these jobs out of high school," he said. "And not having an apartment or anything else … I'm miserable."
Mr. Rastenis knows he's not alone. It seems nearly everyone he knows in his age group is facing similar problems. "Nobody in the age range 20 to 35 are where they want to be right now," he said.
Federal statistics as well as various opinion polls and studies bear him out. Joblessness among Americans ages 18 to 29, the Millennials, is at the highest levels since the U.S. Labor Department started keeping records.
The 15.8 percent unemployment rate for this group is nearly twice the national average. For those ages 16 to 19, the jobless rate is closer to 25 percent, and even for people 29 to 34, it's closer to 10 percent — well above the 8.3 percent national unemployment rate.
The unemployment statistics represents only the tip of the iceberg. Millions of young people have delayed entering the workforce by staying in school, or they stopped looking for work so they aren't included in the unemployment statistics. Millions of others have accepted short-term or seasonal work without benefits, and some are working without pay in hopes that it will land them a job.
Joblessness spawns heartaches
The woes in the job market have fed an ocean of other heartaches and difficulties, including postponed marriages and childbearing, homelessness and having to live for years with parents who expected to be moving toward empty nests and retirement.
A poll last year by Generation Opportunity, a Millennial group, found that 77 percent of Millennials are postponing major life changes, such as buying a home, getting married, starting a family and paying off student loans, because they can't find good jobs.
While many Millennials have retained remarkable degrees of optimism in the face of such hardship, polls show that they think they are the first generation in modern U.S. history to face downward economic mobility compared with their parents.
Indeed, they are moving down the economic ladder. A study last year by Young Invincibles, a youth advocacy organization, and Demos found that Millennials are making about 90 cents for each dollar their fathers earned at their age. Millennial men are generally doing worse than women in keeping up with previous generations.