Former Nebraska Sen. Bob Kerrey has changed his mind and will seek the Democratic nomination for Senate after all, a decision Wednesday that significantly boosts his party's efforts to keep one of its most vulnerable seats this fall.
Mr. Kerrey, 68, who represented the state in the Senate for 12 years before retiring in 2001, said his reversal fit his character because "doing things the conventional way has never been my strong suit."
"I came to realize that my previous decision was the easy one, not the right one," he said. "My commitment to serve Nebraska and America, and to be part of the debate about the challenges we face was too strong to dismiss."
He said his family supports his decision "100 percent."
Sen. Ben Nelson's December announcement that he wouldn't seek re-election this year left Nebraska Democrats scrambling to find a replacement candidate. Facing a shallow talent pool, the party pressed Mr. Kerrey to run.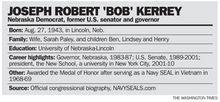 Mr. Kerrey dashed the party's hopes to keep the seat when, earlier this month, he rejected a comeback bid for the Senate. But on Monday reports spread that he was having second thoughts and might enter the race — speculation that neither he nor Democratic Party officials denied.
A Kerrey candidacy would jump-start enthusiasm, media attention and cash for Democrats in a state where registered Republicans outnumber registered Democrats, 48 percent to 32 percent.
"We need a shot in the arm, we need somebody who is going to rally the troops," said Jane Kleeb, executive director of Bold Nebraska, a liberal advocacy group. "He's not like a typical politician … and we know he can raise the money."
But a Kerrey candidacy will face numerous hurdles. He as lived in New York City for more than a decade, causing critics to accuse him of being out of touch with Nebraska issues and values.
Mrs. Kleeb disputed accusations that Mr. Kerrey, who also is a former Nebraska governor, isn't qualified to serve the state in the Senate.
"Because he's lived in New York a couple of years, it doesn't take away his citizenship card as being an American," she said. "He has not forgotten his roots."
But Jennifer Duffy, who covers Senate races for the Cook Political Report, said Mr. Kerrey's time in New York City particularly his 2001-to-2010 tenure as president of the New School, a Greenwich Village university that conservatives label a "liberal haven" is problematic for the candidate.
Nebraskan voters also are more conservative than when Mr. Kerrey last ran for office in 1994, Ms. Duffy said.
"This is not to say that Kerrey can't or won't make this a competitive race, but I think Republicans retain an advantage here," she said.
Republicans called Mr. Kerrey's decision a "flip-flop," while some in the party also have accused Senate Majority Leader Harry Reid, Nevada Democrat, of "twisting" the Nebraskan's arm and engaging in a "backroom deal" to get him to run.