53 youths in killings were D.C. wards on 'at risk' list
Agency insists safety is priority
More than 50 D.C. youths in the custody of the city's juvenile justice agency either have been killed or found guilty of killing someone else over the past five years — and the majority of them had been categorized in advance as posing a "high," "high-medium" or "medium" risk of reoffending.
Hundreds of other youths with similar risk factors remain on city streets, according to figures obtained by The Washington Times from the Department of Youth Rehabilitation Services (DYRS), in part because of a lack of secure facilities to hold them and because officials think confining them jeopardizes their chances for rehabilitation.
Even as officials declare public safety to be their top priority, statistics provided by the agency in response to a Freedom of Information Act request show that 19 "wards" — juveniles who commit crimes and are placed in the agency's custody — have been convicted in homicide cases since 2007. An additional 34 DYRS wards were victims of homicides over the same period.
"This is an astonishing number of lives lost while under the care and custody of this, or any District agency," said D.C. Council member Jim Graham, Ward 1 Democrat and chairman of the committee with DYRS oversight.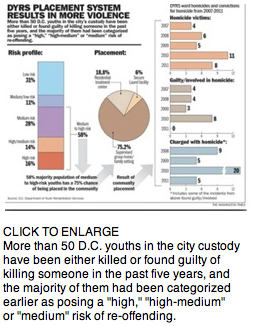 City officials said separate statistics show that 39 youths have faced homicide charges with dispositions that are pending or include convictions, acquittals, dismissals or guilty pleas since 2009, when DYRS adopted its structured decision-making process to guide policies on where to place troubled juveniles. Twenty-three of them — prior to the homicides with which they were charged — were determined to pose a high, a high-medium or a medium risk.
Of the 24 wards who were victims of homicide since 2009, 18 of them posed a heightened risk by the DYRS measure.
By city officials' own assessment, hundreds more youths with similar risk levels are on the streets on a daily basis.
According to figures provided last month by DYRS officials to the D.C. Council studying a random day in 2011, 58 percent of the roughly 1,000 city wards were classified as high, high-medium or medium risk. Fewer than 200 of those youths were sent out of the city to residential treatment centers across the country. About 60 more were in New Beginnings, the city's secure detention facility for youths in Laurel, Md.
That leaves more than 300 youths classified between high and medium risk placed with relatives under supervision of community-based organizations or in one of the District's dozens of group homes scattered across the city.
"These statistics raise serious questions of DYRS' current risk-assessment model and decision-making process to place young people back into neighborhoods without rigorous rehabilitation services and monitoring," Mr. Graham said. "A young person assessed at high to medium risk should be placed in a high-to-medium secure setting for their rehabilitation."
Priorities questioned
The administration of D.C. Mayor Vincent C. Gray disputes the characterization.
In a recent interview with The Times, Deputy Mayor Beatriz "B.B." Otero, who oversees DYRS, questioned the effectiveness of placing youths in secure facilities and expressed a philosophical preference for working with youths outside of detention-based settings.
"I don't believe all of the [medium-risk] or even the high-risk children need to be confined," Ms. Otero said. "I believe each individual has the potential for rehabilitation."
Mr. Gray's office also insists that it remains focused on public safety, and says the percentage of homicides among committed youths is small.
View Entire Story
© Copyright 2013 The Washington Times, LLC. Click here for reprint permission.
About the Author
Latest Stories
Independent voices from the The Washington Times Communities
Playing Through covers the world of PGA golf, as well as tips your the average golfer to play better.
The only thing broken about our immigration policy has been our collective cowardice as a nation to enforce our current immigration laws
Al Maurer provides a common sense, conservatarian, Constitutional conservative perspective from the battleground state of Colorado
Criticism may not be agreeable, but it is necessary. It fulfills the same function as pain in the human body. It calls attention to an unhealthy state of things.